The boys are back and they're coming home as Lionsgate Home Entertainment has announced plans for the release of The Expendables 3 on DVD and Blu-Ray.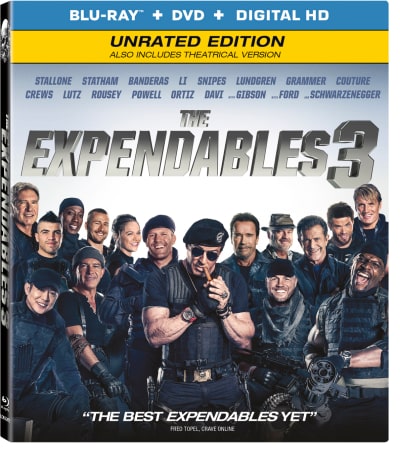 Sure, there are dozens of action scenes and that is what we've come to expect from a The Expendables movie. And we thought those one liners made for some great The Expendables 3 quotes.
But the big selling point for The Expendables 3 on DVD and Blu-Ray is the cache of huge movie stars that Sylvester Stallone has assembled for his third The Expendables.
Mel Gibson, Harrison Ford, Wesley Snipes, Kelsey Grammer and Antonio Banderas all bring their action movie experience to the franchise in the explosive third chapter -- teased in The Expendables 3 trailer.
Look for The Expendables 3 on Blu-Ray combo pack (with DVD) on November 25. Also, it will be released in Digital HD two weeks prior on November 11.
When it comes to bonus features, Lionsgate announced the following:
The Expendables 3 Documentary
New Blood: Stacked and Jacked Featurette
The Total Action Package Featurette
Christmas Runs the Gauntlet Extended Scene
Gag Reel
Watch The Expendables online to see how it all got started and stay tuned for more on The Expendables 3!