The Simpsons Movie Sequel: Fox Wants It, Do Creators?
by Joel D Amos at . Updated at . Comments
Given the success that The Simpsons Movie had when it arrived in 2007, we have been kind of surprised that a follow-up has not even been mentioned in the whispers of Hollywood rumors. Well, according to the show's executive producer, James L. Brooks, it's not like Fox hasn't approached the subject with Brooks and the team -- including show creator Matt Groening.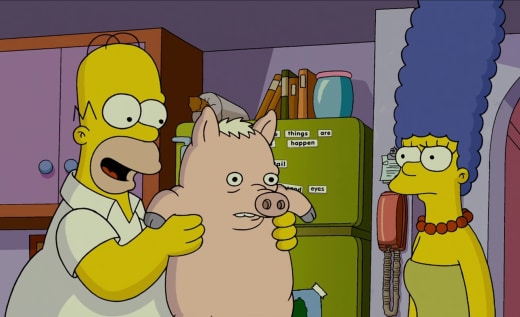 "We have been asked to [develop it], but we haven't," Brooks told THR. "We're doing a lot of other stuff."
We guess doing a hit TV show for 26 years will take up a lot of time, but let's be real: We want more The Simpsons Movie quotes and sooner than later.
We understand the pressures that the team must be under not only to keep the show going, but the landmines that bringing it to the screen (again) can be. I mean, the stress making the first movie must have been intense.
"We felt we were risking everything. What if the movie stank? It took us two years just to get loose, just to breathe a little, like we do on the show," Brooks added.
"It was a murderous two years until we got there. It took us two years to try and act like we didn't give a shit, which the show needs a little bit. The movie needed that quality."
The first The Simpsons Movie made $527 million globally and we think that demand must be super high for a sequel. But, given what Brooks said about what it took to make the first one, we might have to be satisfied with our ability to watch The Simpsons Movie online.
But, we can at least dream for more Simpsons movie magic, can't we?