The Zero Theorem Exclusive: 9 Questions with Lucas Hedges
by Joel D Amos at . Updated at . Comments
The Zero Theorem arrives from one of our favorite directors in Terry Gilliam. It stars Christoph Waltz and Lucas Hedges and as you can tell from The Zero Theorem trailer, it is nothing short of out of this world.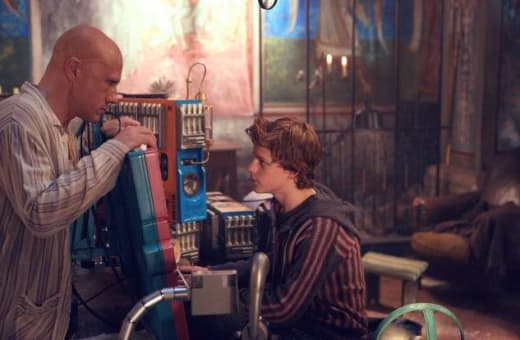 Hedges is a busy young man as The Zero Theorem is not his only of-late project. He can also be seen as the son of Jeremy Renner in Kill the Messenger.
We caught up with Hedges for an exclusive interview where we talked to the star of the film about working with Gilliam and what it is that makes the former member of Monty Python so visionary as a filmmaker.
Movie Fanatic: What was it about the story of The Zero Theorem that most compelled you when you got the script?
Lucas Hedges: I liked the futuristic dystopian aspect of it. I'm generally intrigued by that genre and coupled with the fact that Terry Gilliam was going to do this, that was all that I needed to be intrigued.
Movie Fanatic: What does it mean to you to be in a movie with Christoph Waltz?
Lucas Hedges: It means a lot. It genuinely feels like a dream that I worked with him. It honestly feels as if I didn't work with him and I was dreaming because it was so out of the ordinary. It meant the world to me, and he is the best actor that I have ever worked with in my experience -- both in the fact that he has been nice to me and as an actor.
Movie Fanatic: Watching Mr. Waltz work, what did you take away from the experience as an actor?
Lucas Hedges: Christoph has a whole musical undertone to all of his performances. One of the biggest messages he gave me was a scene that is done right - and any theater or any film that is done right -- is just music. Your lines are notes and you are an instrument. And you're a violin and it only works if you play your piece in the orchestra.
Movie Fanatic: What is it about Terry Gilliam that makes him so special as a director?
Lucas Hedges: His vision. He is a visionary. He is one of the few visionaries in the last 50 years. His movies look different from other movies. They are different movies. He is an individual artist. He is unique.
Movie Fanatic: What do you look for in a script that makes you say "yes?"
Lucas Hedges: I look at my role -- to see if the role intrigues me. That is the most important thing. And I look at the people that I would be working with.
Movie Fanatic: What was it that made you want to be an actor? Was there a movie, an actor/actress?
Lucas Hedges: I saw Super 8 like five or four years ago. That movie was just... Both the fact that it was in the '70s and the '70s are just a beautiful time period but the performances and the way in which it was done, it made me so incredibly happy. I wanted to do what those kids were doing -- I wanted to have the fun that they were having. It was beautiful -- it was real life.
Movie Fanatic: Who is your dream director?
Lucas Hedges: Besides Terry Gilliam -- Steve McQueen.
Movie Fanatic: Who would be a dream co-star?
Lucas Hedges: Andrew Garfield!
Check out his favorite co-star, Waltz, in action and watch Inglourious Basterds online and watch Django Unchained online.