Transformers Age of Extinction DVD Review: Is Bigger Better?
by Joel D Amos at . Updated at . Comments
After raking in over a billion dollars at the international box office, Michael Bay's Transformers: Age of Extinction has arrived on DVD, Blu-Ray and digital download.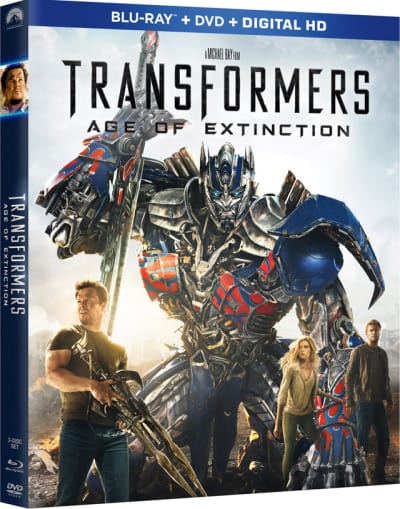 As we stated in our Transformers: Age of Extinction review, the fourth Bay Transformers movie is not the best, but it's not the worst either!
This time out, Shai LaBeouf is (thankfully) gone and Mark Wahlberg is our lead, flexing his muscles as a single father doing his best to provide a good life for his daughter (Nicola Peltz). When he finds an old abandoned truck and decides to fix it, he discovers that he's found a Transformer!
Exciting, or is it?
As teased in the Transformers: Age of Extinction trailer, the government comes sweeping in and he and his family's life will never be the same as they go on the run and get embroiled in what proves to be an interstellar invasion that threatens to take both the Transformers and the human race to the brink of extinction. It's a global adventure of the most explosive varieties that is told in a classic, over-the-top-but-fans-love-it way by Bay.
The Transformers: Age of Extinction DVD and Blu-Ray contain over four hours of bonus content, and for fans of the series, that has to be music to their ears.
Given that this entire series, and almost especially this fourth film, is all about the Bay touch, the Bay On Action featurette has to be at the top of the must-see list for bonus features on the Transformers: Age of Extinction home video. It is a deeply intense and personal interview with Bay about his vision for the series and how he approaches the institution that is the big blockbuster differently than anyone else.
After all, when you watch a Bay film, you know you're watching a Bay film!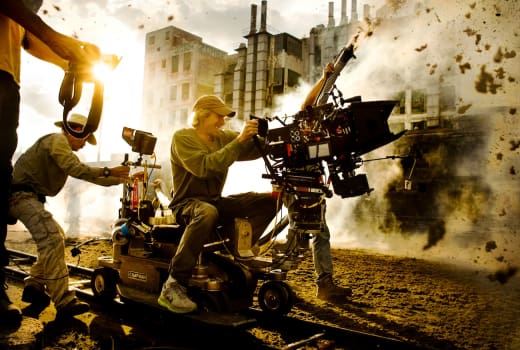 Generation 2 is also quite fascinating in that there are so many fresh faces in this fourth film, this featurette looks at who has joined the team, and their insight as to why they wanted to make Transformers: Age of Extinction is often brutally honestly and sometimes even funny (we're talking to you, Wahlberg!).
As we previewed long before the film opened, Optimus Prime and Bumblebee got new designs for the fourth film. And Drive Like Hell chronicles that effort from the design to the practical. Oh, and how Lockdown became a Lamborghini Aventador is a pretty cool addition too to this feature.
Given that much of the film was shot in China, a rarity these days, The People's Republic explores how that came about and also how once in China, Bay and his team managed to shoot and choreograph many of the mind-blowing action sequences in a country that had never played host to such things prior.
As shown in that featurette, would you believe that many of the Chinese actors that appeared in the film were found on a Chinese reality TV show?!
And the final bonus feature we'd like to spotlight should be a terrific gift for fans of Transformers from way back in the day. When that Transformers: Age of Extinction Super Bowl trailer aired, we got our first look at the Dinobots and we knew that those pesky machines would be in Bay's fourth Transformers film.
Rise of the Dinobots illustrates how that came to be by giving a history of those characters, as well as how they made their live action debut with Transformers: Age of Extinction. Cameras even take us inside Industrial Light & Magic to remove the veil of mystery of their creative process when it comes to creating the beloved Dinobots.
Watch Transformers: Age of Extinction online right now!