22 Jump Street DVD Review: Jonah Hill & Channing Tatum Go Two-For-Two!
by Joel D Amos at . Updated at . Comments
21 Jump Street arrived and was a surprise on many levels -- how incredibly good it was, how it was a brilliant adaptation from the cult '80s TV show and then how successful it became.
Therefore we shouldn't have been so surprised at how utterly fantastic the sequel 22 Jump Street was, and how it is in many ways, even better than the original. Yet, we were. And now that the 22 Jump Street DVD, Blu-Ray and digital download have arrived, we cannot wait to bask in that fantastic glow yet again.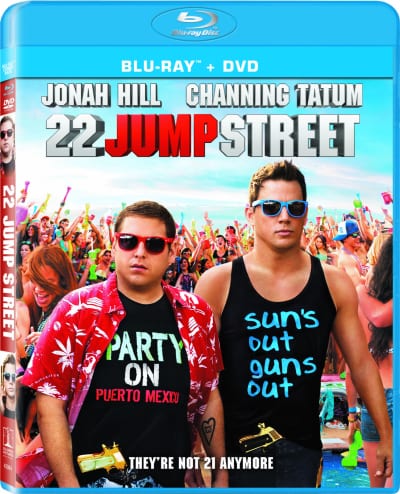 So, how do you top those 21 Jump Street quotes from Jonah Hill and Channing Tatum as a couple of cops who go undercover in a high school? You send them to college, that's how!
What works so brilliantly here (as we explain further in our theatrical 22 Jump Street review) is that they are not only masking a cop movie spoof inside a serious action film, but in 22 Jump Street, filmmakers Phil Lord and Chris Miller are also lampooning sequels themselves. There are countless 22 Jump Street quotes that illustrate that point, many uttered by returning favorite Ice Cube.
Hill and Tatum are back as Schmidt and Jenko and this time out they head to college to bust a drug ring and in the process get to live the college life they never got to when they actually were that age. And unlike their high school experience, their different paths will challenge them in ways that they could never see coming. It all adds up to a thrilling ride with loads of laughs and a fantastic amount of heart.
When it comes to the bonus features, Miller and Lord know exactly what they're doing. A perfect example of that can be seen when you watch The LEGO Movie online. These two not only understand comedy, taking a pop culture-defining item and bringing it to cinematic life, but how it lives on on home video and how to entertain the legions of fans who adore their work beyond just the 90-minute picture.
There are over 100 minutes of bonus features on the 22 Jump Street DVD, Blu-Ray and digital download. Oh where, oh where to start?
Since we cannot get enough of the chemistry between Tatum and Hill, the 22 deleted and extended scenes are utterly priceless. Oftentimes less is more, but in the case of Schmidt and Jenko, more is more. And to see these five deleted scenes is such a gift for fans of the first film, this second one and even just simply the simplest of moments shared between two actors at the top of their game.
Then, there are the 17 extended scenes which give us even more of our favorite 22 Jump Street moments, which simply had to be cut for time, content or both. Normally we're not a big fan of these "extended" moments, but it is clear that Lord and Miller had an exorbitant amount of embarrassment of riches and they have shared them with the world with the 22 Jump Street extended scenes.
The Perfect Couple of Directors further illustrates the brilliance of Lord and Miller and not only shows them at work making this comedy classic, but also gets insight from their stars and fellow cinematic artists that truly spotlights what makes these two so special. From the moment they burst on the scene with Cloudy with a Chance of Meatballs, we knew there was something special about these two. And it is on full display with The Perfect Couple of Directors.
There are a slew of other featurettes that also were must-sees.
Watching these two go undercover is so much of the joy in both 21 Jump Street and 22 Jump Street, that's why the Everything is Better in College featurette is such a wonderful thing. Go inside the undercover transformation of Jenko and Schmidt as they go from cops to college kids.
One of the reasons these films are so fantastic is also the chemistry between Hill and Tatum. These two are clearly friends and close chums off screen and that aspect of the screen magic is captured in Janning and Chonah, a terrific title that riffs on their names as if they were a romantic couple!
Rob Riggle and Dave Franco reprise their roles and in Don't Cry Yet: The Mr. Walters Prison Scene, we're treated to an improv session between the two while shooting the Mr. Walters prison scene.
A stunning bonus feature arrives with The Dramatic Interpretation of 22 Jump Street. Can you imagine watching a solely dramatic version of the film with all jokes edited out? It's an experience, we'll guarantee it.
And one last bonus feature we have to recommend: Joke-a-Palooza features a whiplash montage of jokes that were cut from the film. It's gold!
Lastly, if you have the time (might we suggest you make the time) we recommend adding the audio commentary to the mix to hear what Lord, Miller, Tatum and Hill had to say about the making of the movie. It's fantastic to see the making-of featurettes, but to listen to the filmmakers and the stars, all while watching what it is they are doing within the story, is nothing short of cinematic bliss.
Watch 22 Jump Street online now and prepare for awesomeness!