23 Jump Street: Phil Lord & Chris Miller Believe It Will Be "Crazier"
by Joel D Amos at . Updated at . Comments
With the success of 21 Jump Street, it was hardly a surprise that we got 22 Jump Street. And now that that film has landed on DVD and Blu-Ray (check out our 22 Jump Street DVD review), directors Phil Lord and Chris Miller are talking about 23 Jump Street.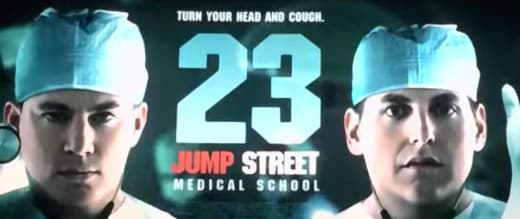 In the continuation of an interview with Empire Magazine where they updated on the LEGO Batman movie and The LEGO Movie 2, they were asked the status of 23 Jump Street, which Sony has green lit -- but whose status is kind of up in the air.
"It's quite possible," Miller said.
"We've been developing something with Rodney Rothman, who was one of the writers on 22 Jump Street, who's written a script, and it's yet crazier -- completely different. Who knows if it'll all come together or how."
As we stated previously, we felt that the duo gutted any chance of the series continuing after they put sequels in the closing credits of 22 Jump Street that went up to like 40 Jump Street! It was a fantastic joke, but almost seemed to take the power of making sequels away as they've already lampooned it.
Yet, maybe they were serious. So… will Jenko and Schmidt (Channing Tatum and Jonah Hill) head to medical school?
Time will tell, but if we were to bet… we'd bet the farm that 23 Jump Street will happen.