Big Hero 6 Rockets Over Interstellar: Weekend Box Office Report
by Joel D Amos at . Updated at . Comments
Disney's Big Hero 6 out sci-fi'd Christopher Nolan's Interstellar to win the weekend box office. With all the hype and expectation surrounding Nolan's epic, weeks ago we never would have guessed that the animated movie based on the Marvel comic would go head-to-head with the man who helmed The Dark Knight trilogy and win.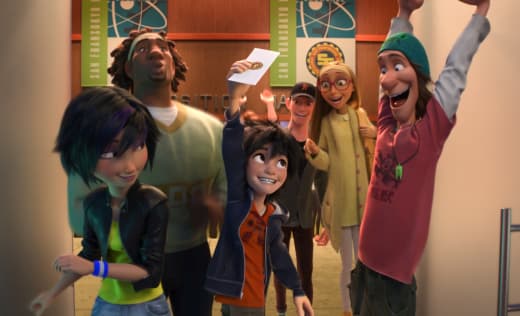 But, then both movies were seen and several things came into play.
One, reviews for Interstellar were greatly mixed. Some loved it, others loathed it and many were in the middle (check out our Interstellar review to see where we stood). Big Hero 6, on the other hand, everyone loved -- critics, audiences… and children. And when a family movie comes along with the kind of buzz that Big Hero 6 had, parents take their families to the movies in droves.
And that is exactly what happened. The fact that Big Hero 6 could have almost twice as many showings due to Interstellar's length, well, that didn't hurt the box office results either.
So, how much did each movie make?
Big Hero 6 won the weekend with a supremely impressive $56.2 million, while Interstellar had to be happy with second place and an equally impressive (but not quite as hefty) $50 million.
Third place belonged to Gone Girl, which continue to add to the total that made the film David Fincher's highest grossing movie. In its sixth week of release, the Ben Affleck-starring thriller based on the bestselling book added another $6.1 million to its $145 million total.
Fourth found Ouija, the horror movie that still draws audiences, even as the Halloween holiday goes further and further into the rear view. The flick that is based on the game that allows users to contact the dead, banked $6 million to bring its total cume to $43.5 million.
Closing out the top five is the Bill Murray-starring independent movie we could not be more thrilled is doing this well, St. Vincent. The Weinstein Company-released dark comedy has made $5.7 million in five weeks of release.
Box Office Top 10:
1. Big Hero 6, $56.2 million
2. Interstellar, $50 million
3. Gone Girl, $6.1 million
4. Ouija, $6 million
5. St. Vincent, $5.7 million
6. Nightcrawler, $5.5 million
7. Fury, $5.5 million
8. John Wick, $4 million
9. Alexander and the Terrible, Horrible, No Good, Very Bad Day, $3.5 million
10. The Book of Life, $2.8 million