Dumb and Dumber To Banks Smart Money: Weekend Box Office Report
by Joel D Amos at . Updated at . Comments
Fans of Dumb and Dumber had 20 years worth of catching up to do with their favorite cinematic idiots, Lloyd and Harry, and therefore it is no surprise that Dumb and Dumber To was the number one film at the box office this past weekend.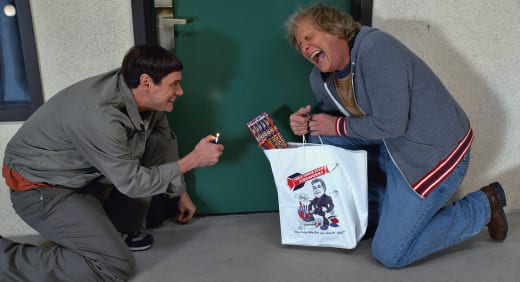 The Jim Carrey and Jeff Daniels starring comedy sequel from the Farrelly brothers knocked off last week's top film, Disney's Big Hero 6, with a $38 million haul.
Dumb and Dumber To's box office victory was actually quite slight. Big Hero 6 banked another $36 million in its second week, bringing its two week total to an astounding $111.6 million.
The debut of Dumb and Dumber To was Jim Carrey's highest grossing opening flick since 2003's Bruce Almighty. It was also the biggest opening ever for a Farrelly brothers movie!
Third place belonged to Christopher Nolan's space epic that gave us those incredible Interstellar quotes. The film landed another $29.2 million to bring its cume to just under that coveted $100 million mark with $97.8 million in its two weeks of release.
Fourth place found the well-reviewed (check out our Beyond the Lights review) music-romance, Beyond the Lights. It opened with $6.5 million earned, but only screened on half as many screens as the top three flicks!
Closing out the top five was Gone Girl. David Fincher's top grossing flick added another $4.6 million to its total of $152.7 million.
1. Dumb and Dumber To, $38 million
2. Big Hero 6, $36 million
3. Interstellar, $29.2 million
4. Beyond the Lights, $6.5 million
5. Gone Girl, 4.6 million
6. St. Vincent. $4 million
7. Fury, $3.8 million
8. Nightcrawler, $3.03 million
9. Ouija, $3.02 million
10. Birdman, $2.5 million