Steve Carell has gone dark, it's official. Just watch the Foxcatcher trailer and his chilling portrayal of John du Pont already has many calling for his first Oscar nomination (we do so in our Foxcatcher review). We met Carell to talk about the role-of-a-lifetime and he said he was surprised that people are shocked that he could be at home in the mindset of a murderer.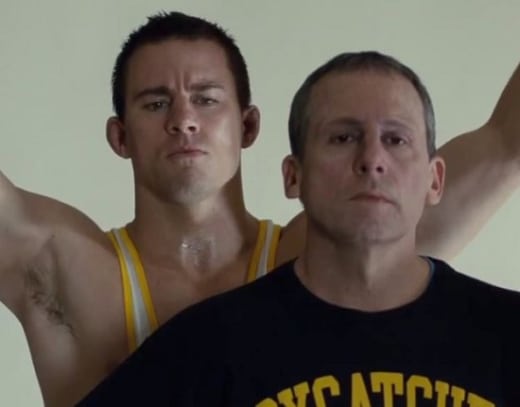 "Oh yeah, I am very dark. I am very dark inside," Carell said and laughed.
Director Bennett Miller approached Carell and thought that there was something unique that the man who brought us the funny when you watch Anchorman online could do the role of a man obsessed with wrestling and Mark and David Schultz (Mark Ruffalo and Channing Tatum).
"It is not a part I would have campaigned for. Had I read the script and looked at that I wouldn't have thought I need to get in touch with Bennett and throw my hat in the ring. At the same time when Bennett called me in and we discussed it -- I trusted him frankly," Carell said.
"The fact that he thought that I was capable of doing it allowed me to believe the same."
It was then that Carell had to dive in and discover the man who was the heir to the du Pont chemical fortune and, by all accounts, had lived a charmed life. "I thought a lot about what a sad person he was. He's a guy whose parents divorced when he was two. He grew up in this enormous house, essentially with just him and his mother, who by all accounts was a pretty chilly person," Carell said.
"He was growing up surrounded by wealth and I think insulated by that wealth. I think he was lonely and in need of things that he didn't have the tools to acquire. So starting with that I think that helped me along the way."
It is easy to see why he would find joy in putting together his own wrestling school. It not only combined his joy of the sport with his desire to run something that didn't have anything to do with family, it also allowed him camaraderie, which he had never truly experienced.
"He was somebody that I think was in need of assistance. He was somebody that didn't have a circle of friends. He had a circle of employees, so no one was going to intervene. He didn't have anyone that was there to see the red flags," Carell said. "And that is incredibly sad and tragic to me. So I never approached him as a villain, I thought of him in that way."
In the end, however he got the part in Foxcatcher doesn't matter. Carell is beyond thrilled with the experience and most importantly, knows what he's looking for in a role heading forward.
"You get to work with somebody like Bennett and you get to work with actors like Channing and Mark and it's a different experience. The change for me is that I want to do more of this," Carell said.
"It was challenging and exciting and exhilarating and I felt like it meant something. So much of the response that the film is getting, it's very rewarding that it is resonating with people. The change for me is that this is something that I want to do. I don't know if I'll ever do anything at this level again, but I would aspire to -- because it's been a great feeling."