Hotel Transylvania 2: Mel Brooks Playing Adam Sandler's Dad!
by Joel D Amos at . Updated at . Comments
We've got a piece of casting news that is just utterly brilliant. Comedy icon Mel Brooks has been cast as the father of Adam Sandler's Dracula in the upcoming animated sequel Hotel Transylvania 2.
We've got the first photo of Brooks as Vlad (we're guessing The Impaler, aka the first Dracula). And is it us or does Sandler's Dracula look utterly thrilled to see his father?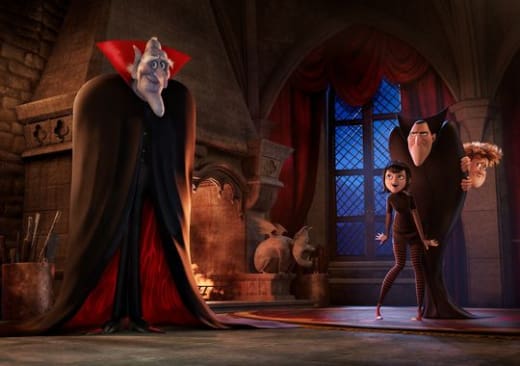 Brooks is no stranger to horror comedies as his Young Frankenstein arrived in 1974 and is considered by many to be one of the best, if not the best funny film of all time.
The plot of Hotel Transylvania 2 follows a family gathering which brings Brooks' Vlad to Dracula's Transylvania landmark. And his arrival will mean different things to the different guests of Drac's establishment including Steve Buscemi's Werewolf and Kevin James' Frank(enstein).
"Vlad doesn't treat Dracula with a lot of respect and they're often at odds. It makes for some wonderful comedy," Brooks told USA Today, where the picture premiered.
Genndy Tartakovsky is back to helm the series he started when you watch Hotel Transylvania online. The film is set to land September 25, 2015 and, yes, Selena Gomez and Jesse Eisenberg will also return.