Interstellar Prequel Comic: What Happened Before Nolan's Epic?
by Joel D Amos at . Updated at . Comments
Christopher Nolan clearly thought about the world of Interstellar, long before he shot his first scene. Sure, his script would give us those unforgettable Interstellar quotes, but one has to wonder, what happened before Matthew McConaughey's Cooper headed off into the deep unknown to save the human race?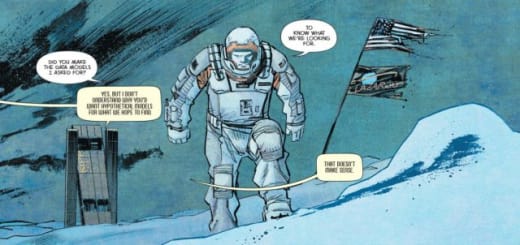 That answer has arrived in the form of a seven page comic that serves as an Interstellar prequel and is available over at Wired.
Nolan's handprints are all over this comic as he edited, but the story comes from veteran comic artist Sean Gordon Murphy.
The story of Absolute Zero (don't read on if you haven't seen Interstellar yet!) follows Dr. Mann and his efforts to go through the wormhole to find a hospitable planet before Cooper even took off.
This was NASA's first attempt at saving the world.
What happened to Dr. Mann? That question is answered in the comic.
Interstellar is an international blockbuster, grossing more than $320 million thus far.