If nothing else, Into the Storm features some of the most astounding weather footage ever caught on film. The film follows a group of storm chasers as they encounter a once in a lifetime series of tornadoes that descend on a small town. Into the Storm is out now on DVD, Blu-Ray and digital download for home audiences to get all sorts of swept away.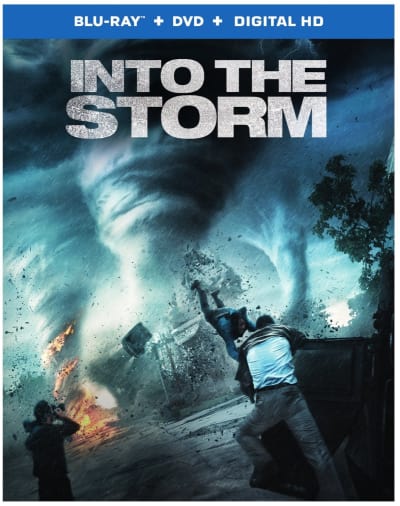 Director Steven Quale (Final Destination 5) has brought a whole different kind of terror with his latest. Sarah Wayne Callies plays a meteorologist who, painfully, has to be away from her daughter (thus the emotional pull of the film) during tornado season as she works for a group of storm chasers who are among the best at what they do. But, they have been the last to the party, so to speak, for the last few tornado touchdowns, and the pressure is on to score video of weather devastation before anyone else.
As you can see from the Into the Storm trailer, Callies finds the mother of all tornadoes. In fact, there are quite a few, and they are all causing havoc in a small town where we find Richard Armitage's school administrator who is simultaneously trying to raise teenage boys solo and run a school graduation as a storm looms.
Our theatrical Into the Storm review found the film quite original, although lacking in much drama. The Into the Storm DVD, Blu-Ray and digital download is a fascinating pick-up for those who watch special effects-driven movies and wonder, "How did they do that?" And there are plenty of answers in this package!
Into the Storm: Tornado Files takes the viewer to the front lines of the science behind the weather conditions that create these monster storms. And yes, they even explore how our changing weather patterns have produced more of these super storms in recent years and how science is finding that that will not slow down. If anything, massive storms will increase. We also get to ride along during Into the Storm: Tornado Files with the real life storm chaser Reed Timer, who brings to life many of the fictional facets of the thrilling scenes portrayed in the film.
Our storm chasers in Into the Storm ride around in a weather-proof tank, known as Titus. The bonus featurette Titus: The Ultimate Storm Chasing Vehicle shows how the monster was constructed and how it is based on a reality that exists where these vehicles can withstand winds that would send other cars and trucks whooping into the air.
Lastly, Fake Storms: Real Conditions shows how it was for the cast to make a movie where there were, clearly, no actual storms threatening them. But, the rain and wind machines made it feel all too real. Acting on screen is always a challenge, but in conditions like this, these actors show us they have never been so challenged in their careers. Flying debris and being pulled around by wires is no ordinary movie-making experience!
Watch Into the Storm online right now!