Maleficent DVD Review: Angelina Jolie Is One Horny Villain
by Joel D Amos at . Updated at . Comments
When the movie Maleficent was announced, it was immediately clear that Angelina Jolie was the perfect choice to play the title character, the iconic villain from Sleeping Beauty. But, what about the story? Casting is only one part! History has shown that audiences around the globe have embraced the origins story of Maleficent and how she became so bad as it is now one of the top five highest grossing movies of 2014. Yeah, it's only made over $757 million!
And now, Maleficent is coming home on DVD, Blu-Ray and digital download.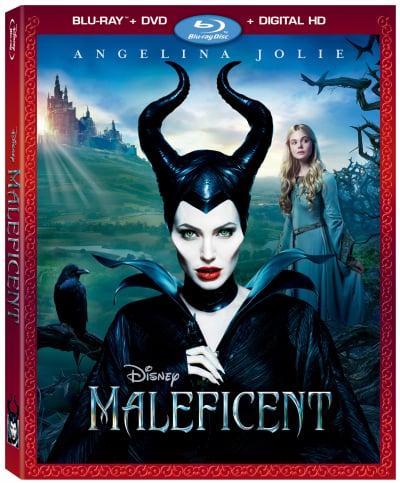 As we reported in our theatrical Maleficent review, this is quite the solid flick and the brilliant casting doesn't just start and end with Jolie.
Elle Fanning is Princess Aurora and is a breath of fresh air in an otherwise dark story, and speaking of dark, Sharlto Copley (Elysium, District 9) is nothing short of brilliant as the wasn't-always-so-evil King Stefan. His scenes with Jolie that lay the seeds of her becoming the villain we all know and love to hate are utterly powerful and slingshot our entire Maleficent story into a fully realized origins story that works on so many levels.
Maleficent marked the directorial debut of Robert Stromberg, a two-time Oscar winner for Art Direction (Avatar, Alice and Wonderland). And honestly, who better to bring this magical world to life than Stromberg? It is a match made in heaven.
Disney home video continues its streak of featuring beyond stellar bonus features with the release of the Maleficent DVD, Blu-Ray and digital download. Let's look at some of our favorites.
Building An Epic Battle chronicles the creating of the clash between Maleficent and King Henry's forces. Filmmakers show us how they orchestrated that incredibly mind-blowing opening battle scene and how the use of gigantic wire rigs aided the elaborate fight choreography to give audiences a fight scene that is as epic as is worthy of the Sleeping Beauty villain's origins.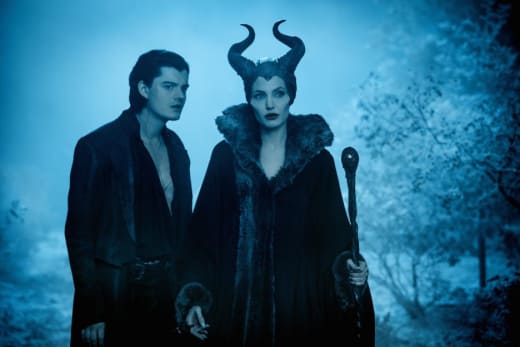 For fans of Sleeping Beauty and frankly fans of Disney movies of all kinds, From Fairy Tale to Feature Film is a fascinating look at how they even began and then executed the process of giving an iconic villain a backstory that would become a film that would join the legions of legendary flicks from the Mouse House.
The question of "how did they do that?" that will repeatedly pop in your head through watching the film is answered with Maleficent Revealed.
The special effects pop and push boundaries throughout Maleficent and having a former art director as the director proves to be a brilliant stroke of hiring as Stromberg and his team removes the veil of special effects secrecy on this entertaining and enlightening bonus feature.
When we talked to Elle Fanning for Maleficent, she revealed that portraying a Disney princess was a lifelong dream come true. Aurora: Becoming A Beauty takes that wish and shows how it was brought to life. The young actress reveled in her opportunity and in hindsight, turned in one of the best performances of her career. This featurette dazzles as it shows how in the world of Disney, dreams truly do come true.
The look of Maleficent herself is nothing short of an Oscar-worthy effort. We truly adored Classic Couture that examines Maleficent's spellbinding head wraps and jewelry. Jolie brought the talent, but it is the Disney magicians who made her look come to life and now we know the immense mountain they climbed to make it happen. 
Watch Maleficent online right now!