You might recall when Marvel released their plans through 2019 and the internet exploded with joy. We finally had a clue what exactly would be in their so-called Phase 3 and it included their first African American superhero with Black Panther and first female solo superhero movie with Captain Marvel.
The studio has released that timeline so you can save it and look at it whenever you want to know what's coming when!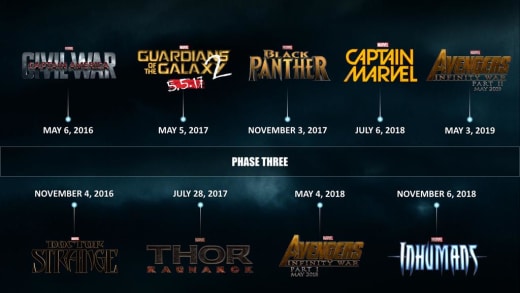 Clearly it will all lead up to a two-part Avengers conclusion that is called Avengers: Infinity War. Thanos will bring the hurt to our favorite superheroes -- that will probably find a way to work together after the split that is surely going to happen in Captain America: Civil War (which incidentally starts Phase 3).
Check out all the films' logos and their release dates in the slideshow below. And check out the most recent Marvel movie available now and watch Captain America: The Winter Soldier online.