Back in October when Mean Girls celebrated its tenth anniversary, we were struck at how well the Tina Fey-penned Mean Girls quotes had stood the test of time. The film has become a legend since its release in 2004 and now Entertainment Weekly has gotten the cast back together for a photo and gotten each cast member and Fey's thoughts on the film and the phenomenon that has occurred since its debut.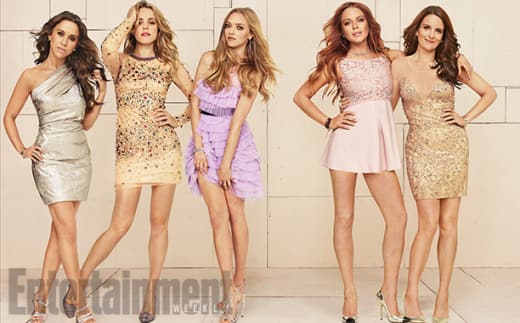 This is all part of Entertainment Weekly's reunion issues (check out the Ghostbusters cast reunion!). It's one of our favorite issues of the year and so far, it has hardly disappointed.
So, back to Mean Girls -- did they know they were onto something?
Writer and star Tina Fey thought so, but then questioned herself. "At the time we did want to start the conversation about the sequel, and for whatever reason I was like, 'No!!! We shouldn't do that!' Now I look back and I'm like, 'Why?' But now, no -- it's too late now," Fey admitted.
For Rachel McAdams, Lindsay Lohan, Amanda Seyfried and Lacey Chabert, the years have shown them what an impact this flick has had on people.
"I was staying at a bed-and-breakfast recently in the-middle-of-nowhere Ireland. And one of the owners' granddaughters came up to me, and she gave me a piece of pink paper and she goes, 'Can you write down just a few of your favorite Mean Girls quotes?' It was so sweet," McAdams recalled.
"I couldn't think of any of them! It's been 10 years! So I said, 'Well, what are your favorites?' So she literally fed me all these lines, like 'Is butter a carb?'"
Lohan was even struck by how the film's release date, October 3, is now known as Mean Girls day.
"I was leaving the playhouse the other day [Lohan is starring in a revival of Speed-the-Plow in London's West End]. These kids were outside, and someone said, 'Do you know what day it is?' Someone said, 'It's October 3rd!' I was like, 'What? I don't understand!' I didn't know what they meant. Then I realized it!" Lohan said and laughed.
Where do the ladies think their characters would be now?
We think McAdams takes the cake with her answer. "Regina is a Real Housewife. She'd have too much time on her hands, for sure," she said. "She's probably found all her other Reginas."
Seyfried, perhaps injecting her own love of canines, says that "Karen would manage or own a store that sells really cool dog attire, like Swarovski dog collars and Halloween costumes for animals. She's probably really focused."
Watch Mean Girls online and relive one of our favorite films of recent memory.