Mockingjay Part 1 Has Biggest Opening of Year: Weekend Box Office Report
by Joel D Amos at . Updated at . Comments
Mockingjay Part 1 had the biggest opening weekend of any movie in 2014 with its bow of $123 million. But, when is a victory (somewhat) of a loss? When the previous installment, Catching Fire, arrived to a whopping 22 percent higher debut!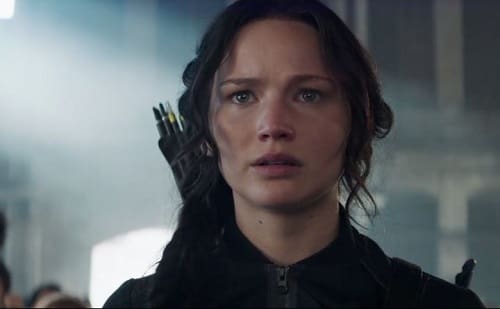 Expectations were that Mockingjay Part 1 would open at close to $150 million, but clearly that didn't happen. The difference, honestly, could be simple. Whereas Catching Fire was able to open on IMAX screens, another movie has those locations on lockdown right now… and that would be Christopher Nolan's Interstellar.
Not to worry Hunger Games fans, this flick still made a ton of dough and scored the highest opening weekend of the year. And as we look towards the rest of the year, it will likely finish the year as the top opening weekend. Period.
Second place belonged to Disney's Big Hero 6 which added another $20 million to bring its total to $135.7 million. Third place was that IMAX screen stealer, Interstellar. The Nolan-directed flick made $15.1 million to bring its cume to $120.6 million
Fourth found Dumb and Dumber To, last week's number one movie. The comedy sequel banked $13.8 million for a two-week total of $57.4 million.
Closing out the top five was David Fincher's biggest film of his career, Gone Girl. The Ben Affleck-starring film earned $2.8 million for a total gross of $156.8 million.
Box Office Top 10:
1. Mockingjay Part 1, $123 million
2. Big Hero 6, $20 million
3. Interstellar, $15.1 million
4. Dumb and Dumber To, $13.8 million
5. Gone Girl, $2.8 million
6. Beyond the Lights, $2.6 million
7. St. Vincent, $2.4 million
8. Fury, $1.9 million
9. Birdman, $1.85 million
10. Nightcrawler, $1.2 million