Planes Fire & Rescue DVD Review: Dusty Has Kids Soaring!
by Joel D Amos at . Updated at . Comments
Disney had a surprise hit when Planes landed in 2013, so it's hardly a surprise that we got a sequel, Planes: Fire & Rescue, merely a year later. What is quite the revelation is that it is an even better film and has become even more popular with families all over the globe than the first time we lined up to see Dusty break out of his set lot in life to aspire to bigger and better things.
Now Planes: Fire & Rescue has arrived on DVD, Blu-Ray and digital download and we can guarantee that kids are going to want to see this flick over and over again.
That is actually a good thing as the messages contained in the Planes sequel are even more profound, and that is saying something given the inspirational themes of the first film.
As teased in the Planes: Fire & Rescue trailer, Dusty has conquered the world and is a top tier racer, but is content to still come home to be amongst his friends. When a fire at his home airport causes a federal inspection, the site will be closed down until a second firefighting plane is added.
So, what's a hero whose dreams are as high as the sky to do? Dusty heads off to learn how to be a firefighting plane and it is there that he will find even more meaning and life lessons than he could ever have dreamt of.
Dane Cook is back as Dusty and as we stated in our theatrical Planes: Fire & Rescue review, the stand-up has got the role of a lifetime in the animated plane. Joining the cast as a possible love interest and definite comic foil is Modern Family star Julie Bowen. The two of them have fantastic chemistry and it is just the beginning of a Disney cast that is bigger than the first film, and even more gelled.
Ed Harris, Hal Holbrook, Stacy Keach and Jerry Stiller are just a few of the legends that make Planes: Fire & Rescue soar.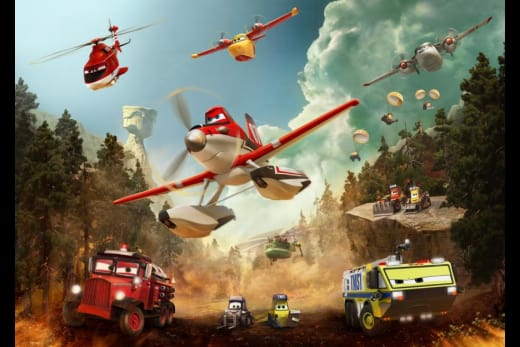 When it comes to the bonus features, the top of the list has to be the all new animated short, Vitaminamulch: Air Spectacular! It's like Planes 2.5, for those who cannot get enough of Dusty and his high-flying friends.
We also adored the mock-umentary promotional piece Welcome to Piston Peak, which works on so many levels. And for those who have seen the film already, the CHoPs bit is one of the movie's funniest, and having that CHoPs TV Promo on the DVD, Blu-Ray and digital download is nothing short of pure joy.
Part of the reason that Planes: Fire & Rescue works so well is that filmmakers went to interview and chronicle what real air firefighting teams do and that effort is chronicled in the brilliant bonus feature Air Attack:  Firefighters From The Sky. The real life smoke jumpers get the much deserved spotlight and don't be surprised if they inspire the little ones too!
We also must mention the inclusion of two new Disney Planes: Fire & Rescue short films, Dipper and Smokejumpers -- because as we learned with the arrival of the movie itself, we cannot seem to get enough of Dusty and this spin-off world of Cars that focuses on those who fly the skies.
Watch Planes: Fire & Rescue online right now!