Quentin Tarantino just announced the cast of The Hateful Eight and is set to head off to Colorado to start filming his Western epic in December. That's fantastic news, and in some ways, that is truly sad news. See, this is his seventh film (he counts Kill Bill as one) and he announced plans to walk away from filmmaking after movie number ten.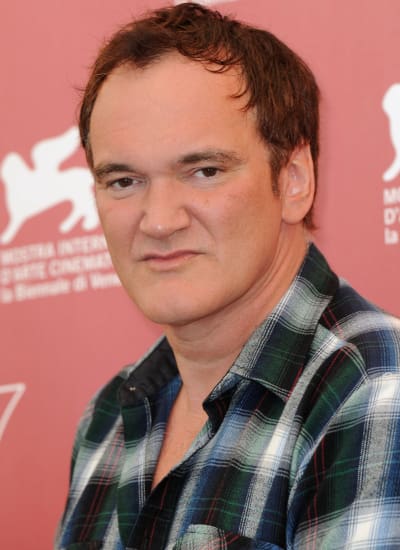 So, this is the beginning of the end. Tarantino made the announcement at the annual American Film Market event where he was speaking.
"I don't believe you should stay on stage until people are begging you to get off. I like the idea of leaving them wanting a bit more. I do think directing is a young man's game and I like the idea of an umbilical cord connection from my first to my last movie. I'm not trying to ridicule anyone who thinks differently, but I want to go out while I'm still hard," Tarantino revealed.
"I like that I will leave a ten-film filmography, and so I've got two more to go after this. It's not etched in stone, but that is the plan. If I get to the tenth, do a good job and don't screw it up, well that sounds like a good way to end the old career."
Although he did leave the door open and to quote that famous phrase, "never say never."
"If, later on, I come across a good movie -- I won't not do it just because I said I wouldn't. But ten and done, leaving them wanting more, that sounds right."
This is an interesting development. Tarantino has long said that he would rather call it quits sooner than later. But, we never thought it would so soon for the man who brought us one of our favorite movies in Pulp Fiction.
And since he comes out with a movie every few years, we still have a little while. But, this news is a little shocking. Perhaps it is because we are such huge fans of his and his talk of making a bad movie seems ridiculous. I mean, has Tarantino ever made a bad movie?
Hopefully, he will continue writing. After all, that is how he got his start (he wrote the screenplay to Tony Scott's True Romance). Maybe he'll pull a Stephen King and walk away, write a book about moviemaking and then the pull of it will be too strong to resist and he'll come back.
Either way, we have to respect the man's feelings. If anyone deserves to go out on top, it's him. After all, watch Django Unchained online, and his last work scored him the highest honor in his field -- the Best Original Screenplay Academy Award. 
Tarantino is one of 17 directors who we would watch anything they did. Click through to see the other 16.