Sin City A Dame to Kill For DVD Review: Sinfully Gorgeous!
by Joel D Amos at . Updated at . Comments
Given the success that the first Sin City had when it debuted in 2005, it's hard to believe it took nine years for the sequel, Sin City: A Dame to Kill For, to arrive.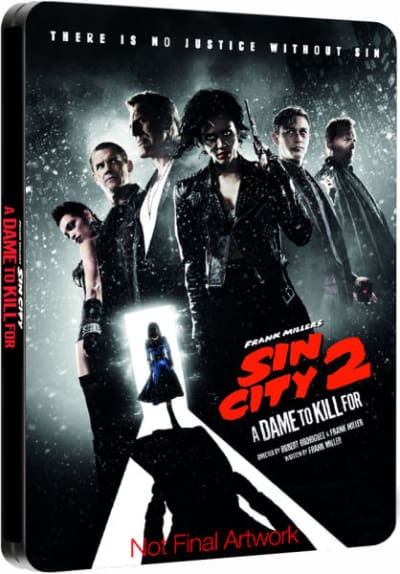 But, given the leaps and bounds of cinematic technology, that long wait was absolutely worth it. The sequel looks even better than the first. Since the visuals are the big selling point with the Frank Miller-Robert Rodriguez directed series, the almost decade-long span between movies is a very good thing.
You can discover that for yourself as Sin City: A Dame to Kill For has arrived on DVD, Blu-Ray and digital download. What is so special about the release is the look of Sin City isn't about size -- it goes much deeper than that. So, the fact that we're seeing Rodriguez's and Miller's world on a smaller (somewhat smaller for some of us) screen is no big whoop.
Miller introduces some new characters in this sequel, and as we stated in our theatrical Sin City: A Dame to Kill For review, they are by far the best part.
Joseph Gordon Levitt astounds as a man who seems to have a death wish with his seeking to go head-to-head with Powers Booth's Roark. Josh Brolin is Dwight and although we adore Clive Owen in the original, Brolin's center of this story is a much richer and powerful performance with soul, frankly.
And then there's Eva Green. This woman has been a revelation of late. With her turn in 300: Rise of an Empire and now Sin City: A Dame to Kill For, she has been the best thespian part of visually stunning flicks. Green's Ava is the title character and the way that Miller and Rodriguez paint her, literally and figuratively, one can see why Brolin's character would kill.
As the Sin City: A Dame to Kill For trailer teased, and as we said prior, this film series is about the visuals and less about the story. The story is a little lacking, but what Rodriguez and Miller do with what we see is nothing short of art in motion. And that is why the Sin City: A Dame to Kill For DVD, Blu-Ray and digital download are the perfect format for it.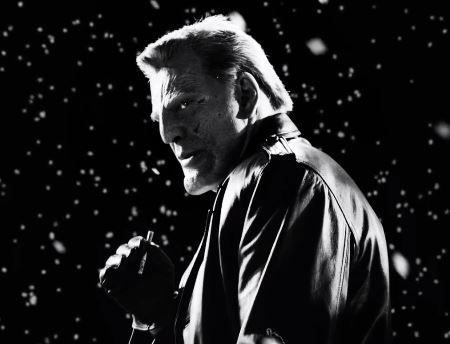 It allows the viewer to go deeper into the cinematic movie-making magic of Rodriguez and Miller. Proof of that arrives in the most astounding of ways. Watch the film in its entirety, and then witness the bonus feature The Movie in High Speed Green Screen. That's right, Rodriguez and Miller have stripped away all their CG visuals and what seems like it would be a fruitless effort is in fact the opposite. It clearly shows the complicated and highly technical nature of what Sin City filmmakers achieve and there could be no better way to showcase it than in this home video bonus feature.
Further pulling off the veil of the movie-making magic is the fantastic featurette, Makeup Effects of Sin City with Greg Nicotero. What this true artist achieves in black and white with splashes of color is astounding.
Lastly, the Stunts of Sin City with Jeff Dashnaw featurette takes us inside the difficult and uber challenging effort to orchestrate and execute stunts in a world that solely exists in green screen.
If nothing else, the Sin City: A Dame to Kill For home video release is a lesson in filmmaking for all those who cannot get to film school!
Watch Sin City: A Dame to Kill For online right now and check out our favorite Sin City: A Dame to Kill For quotes!