Star Wars The Force Awakens Trailer: When Is Premiere & What Will It Look Like?
by Joel D Amos at . Updated at . Comments
Now that we know the title of Star Wars: Episode VII, Star Wars: The Force Awakens, the next logical question is: When will we see the first trailer? Well, we're guessing that it is probably going to arrive sometime before 2014 becomes 2015. Where exactly, well, there are several theories about that.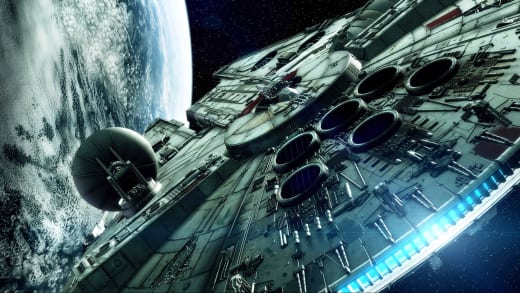 One has it being attached to a huge theatrical Disney release and the only one we really have left in 2014 is Into the Woods.
But, it could also just debut on ABC (owned by Disney) during one of their bigger shows (for maximum viewage) or it could appear on Marvel's Agents of S.H.I.E.L.D. to help that show (that is still kind of struggling to find viewers).
We suspect it will do both, appear on an ABC show and with the Into the Woods theatrical release, which will be December 25 -- fitting with our theorized timeline.
But, what will it look like? Badass Digest has reliable sources that report that the trailer will simply be The Force Theme played quietly on woodwinds as images of the main leads are shown and then fade to black.
They believe that there will be no dialogue in the trailer… until the very end. An image of the Millennium Falcon will appear shooting at the camera and then Daisy Ridley's voice will say, "Wake up."
Get it? The Force Awakens… Ridley saying, "Wake up?"
We think this is dead on.
After all, J.J. Abrams is famous for not showing anything much in his movie trailers. And even though this is a Disney-owned franchise and they like teasing as much footage as possible in their trailers, we suspect in this case, less is more.
What do you think? Let us know in the comments section below.