What makes Step Up: All In so special is how it brought back some fan favorites from the Step Up franchise and put them all in one adrenaline-packed movie where, yes, it is all on the line. With the arrival of the Step Up: All In DVD, Blu-Ray and digital download, we can think of no better format to witness (and re-witness again and again) some of the most envelope-stretching and jaw-dropping choreography that can be captured on film.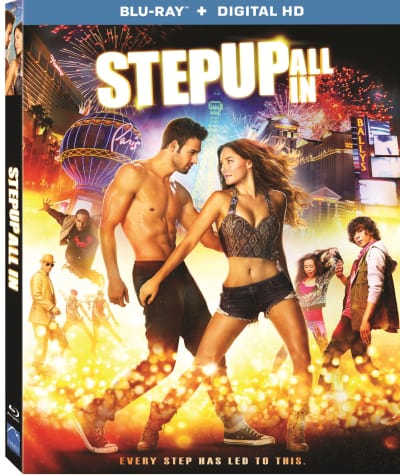 Step Up: All In brings back Ryan Guzman (who you can see when you watch Step Up Revolution online), Briana Evigan (Step Up 2: The Streets), as well as tWitch (who has appeared in practically all the Step Up movies!), Misha Gabriel (Step Up Revolution) and even Adam Sevani who has also appeared in numerous Step Up movies.
This time out, Guzman leads his crew to L.A. seeking the bright lights and fame. After audition after audition, it becomes clear they might have to pack up and head back home. Guzman believes their best days still lie ahead in L.A. so the crew goes their separate ways.
As teased in the Step Up: All In trailer, the gang comes face-to-face again in Las Vegas when a dance competition promises a residency show at one of the city's biggest casinos. Guzman assembles an LA crew and, meanwhile, his former crew gets back together. It's… All In!
The bonus features on the Step Up: All In DVD, Blu-Ray and digital download include not just one fascinating behind-the-scenes featurette, but two!
Our favorite of the two is the Dance Breakdown: Final Stage which takes you inside the making of one of the most elaborate dance sequences ever attempted in a Step Up movie. And might we say, it's one of the most astounding we've seen on film in some time. The talent, patience and power it takes to mount these unforgettable cinematic dance scenes is truly unveiled in this feature and it is not to be missed by fans of the Step Up series, or dance fans of any kind.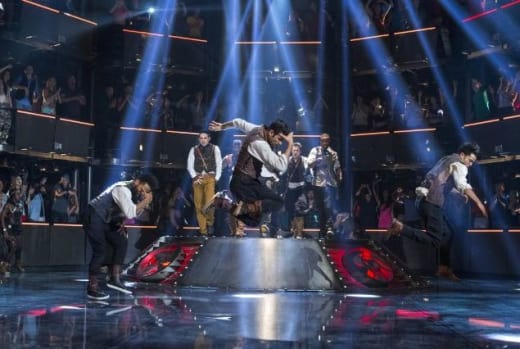 The second behind-the-scenes featurette, All In with the Crew, is a stunning look at the various dance crews that come to Vegas for the big competition. They are all so varied and possess such diverse talents -- it's a marvel to watch them work when the cameras are rolling.
And the documentary short Clap, Stomp, Slide: The Sounds of Battle illustrates the efforts that go into these mesmerizing dance sequences from a technical point of view. It's not all movement! Director Trish Sie and her team go All In and it shows… sense a theme here?!
Speaking of Sie, her director's commentary is also not to be missed as she sheds light on every inch of the film that adds up to something truly special, just like the Step Up franchise itself.
Watch Step Up: Al In online right now and prepare to tap your toes… big time!