The Expendables 3 DVD Review: Biggest Action Stars Come Home
by Joel D Amos at . Updated at . Comments
When it was announced that the Sylvester Stallone-founded The Expendables was going to get some of the biggest names in action to join his third film in the series, anticipation was so high for The Expendables 3. Harrison Ford, Mel Gibson, Antonio Banderas joining Stallone, Arnold Schwarzenegger and a gaggle of other Expendables vets in one movie -- are you kidding me?
Now that The Expendables 3 has landed on DVD, Blu-Ray and digital download, the entire world can check out the fruits of their labor on home video. Does the addition of great action heroes add up to a great flick?
What Stallone does well with this Expendables movie is he still manages to give each superstar and the supporting action stars plenty of equal screen time. That had to be an enormous challenge. And the story for this film, teased in The Expendables 3 trailer, is actually quite interesting by focusing on Gibson's character, who we learn is a founding member of The Expendables and was left for dead. Yeah, he kind of holds a grudge.
It is also fascinating that Stallone, while adding aging action superstars to the mix, also sought to get some younger ones. So, much of the first act involves him traveling around with Kelsey Grammer's character (he is bombastically brilliant and adds laughs to a less humor-filled film than the previous three) looking for young blood.
That is how we get Ronda Rousey and Kellan Lutz, among others.
What this juncture of old and young has us wondering is if Stallone is looking to hand off the franchise to a younger crowd? But, doesn't that go against the entire idea of The Expendables movies? We like seeing our favorite action heroes from another era suit up and go into battle once more tossing one-liners (check out our The Expendables 3 quotes) as quick as their bullets fly out of their guns.
That's why our theatrical The Expendables 3 review found the film not the best of the three, but not a horrible movie by a long shot. It just seems confused as to what direction it wants to go in. But that aside, The Expendables 3 is still a fun joyride of mindless fun that is oftentimes quite explosive.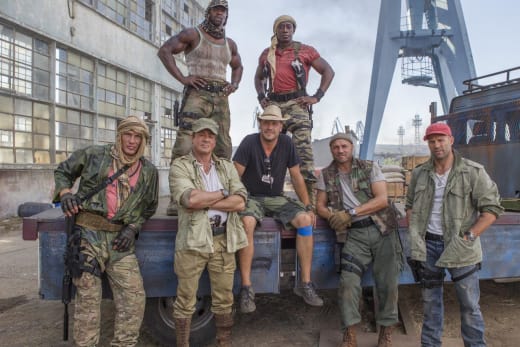 When it comes to the bonus features, the highlight has to be The Expendables 3 Documentary. The big appeal of seeing the film itself is witnessing our favorite action stars in one film and what is such a treat about The Expendables 3 Documentary is that we get to see all these superstars just hanging out making a blockbuster movie. What are Ford, Banderas, Gibson, Schwarzenegger and Stallone like when the cameras aren't rolling? Now, we know.
We also quite enjoyed a look at the new members of the team who could be action heroes of the future with the New Blood: Stacked and Jacked featurette. If indeed the franchise heads in a younger direction, Stallone is in good hands. And if it doesn't, well, we were treated to a preview of some of our favorite action stars of tomorrow in a movie that celebrates the action heroes of yesterday.
And one more thing… Jason Statham's Christmas is one of our favorite characters in this entire The Expendables world. The Christmas Runs the Gauntlet extended scene… well, let's just say watch it and enjoy some Statham sizzle.
Watch The Expendables 3 online right now and see how it all got started and watch The Expendables online!