The November Man DVD Review: Pierce Brosnan Spies a Thriller
by Joel D Amos at . Updated at . Comments
When the producers of the James Bond franchise decided to go in a different direction and hired Daniel Craig, we felt that the previous actor who was 007 was not quite ready to go. That became clear in our The November Man Pierce Brosnan exclusive interview and judging by the film that is out now on DVD, Blu-Ray and digital download, he is years away from being "too old" for the cinematic spy game.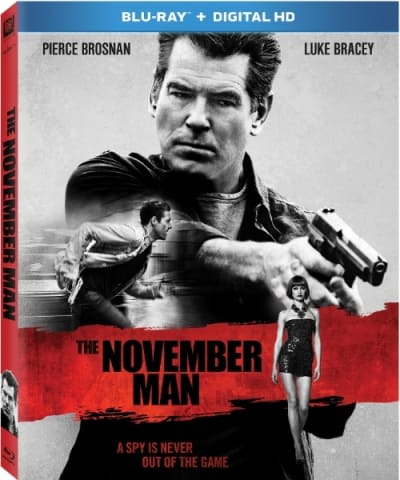 Brosnan is Peter Devereaux, a retired spy who gets pulled back into the game when someone he loves needs his help in Russia. As you can see from The November Man trailer (and as these things often are in spy movies), things are not what they seem and before he can blink, he's in over his head and fighting for his life.
Our theatrical The November Man review explores this further, but we truly enjoyed this thrill ride. The best part was seeing Brosnan back in action. He has not lost a beat and if it's even possible, he's even more perfectly suited to play Devereaux than Bond!
Watching him deal with an international double-cross, compounded by the fact that he's trying to protect his family and those close to him, well, he has all the motivation he needs to turn in a sizzling performance.
And Luke Bracey, Olga Kurylenko and Will Patton also do stellar work as supporting players that make The November Man one of the biggest spy movie surprises of recent memory.
You can also tell that the film is based on a book series by Bill Granger. It has that richness and now that The November Man 2 has been green lit -- we cannot wait to see where Brosnan goes next with this character.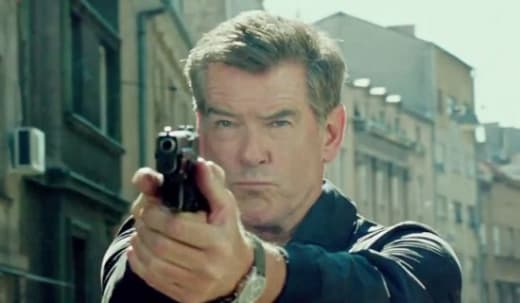 The bonus features should delight, even though there are truly only four. The Making of The November Man is an interesting look at the making of a spy thriller from the bottom up.
It delves into the filmmaker's (director Roger Donaldson) and Brosnan's shorthand that they developed working on Dante's Peak all those years ago. And it is clear too that Brosnan is a co-producer on the film and it's fascinating to witness him wearing two hats while making a movie in the genre he clearly adores.
Brosnan's passion for Belgrade comes through in Bringing Belgrade to the Big Screen. The star has made movies there before the war, during the war and now with The November Man, after the war. Witnessing a life brought to this city that has been through so much is truly a gift. After witnessing this featurette, we wouldn't be surprised if Belgrade was added to cities to see.
As a huge fan of Brosnan for years now, we truly cherished the Brosnan Is Back featurette. All that needs to be said about it is in the title. He. Is. Back.
And that could also be said for the headline when it comes to describing all that is fantastic about The November Man.
Watch The November Man online right now!