Disney has formally released its slate of films for 2015 and it should prove to be the best ever. And that is saying something for the studio that had a 2014 for the ages, from Guardians of the Galaxy to Big Hero 6 and Into the Woods.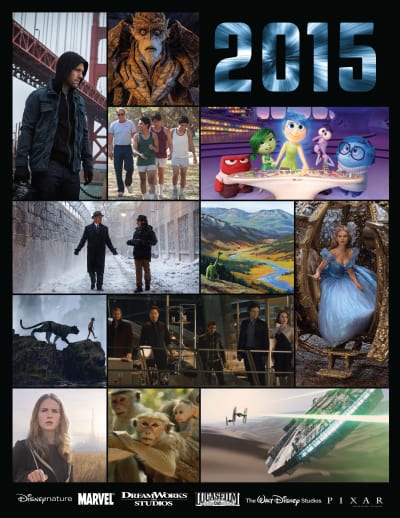 Several of the below titles already have given us a look, like that amazing Cinderella trailer and the jaw-dropping Star Wars: The Force Awakens teaser trailer.
But, we've also got a new Avengers movie, a new Pixar movie and a new Marvel movie that introduces us to their littlest and mightiest hero, Ant-Man.
This is the full list of Disney soon-to-be classics:
January 23, 2015 - Strange Magic
February 20, 2015 - McFarland, USA
March 13, 2015 - Cinderella
April 17, 2015 – Monkey Kingdom
May 1, 2015 – Avengers: Age of Ultron
May 22, 2015 – Tomorrowland
June 19, 2015 – Inside Out
July 17, 2015 - Ant–Man
October 9, 2015 -  The Jungle Book
October 16, 2015 – The Untitled Steven Spielberg Cold War Spy Thriller
November 25, 2015 – The Good Dinosaur
December 18, 2015 – Star Wars: The Force Awakens 
Watch Avengers online and get ready for that sequel in May. Did we tell ya, 2015 is going to be one for the ages.
Check out all our preview photos of a few of our most anticipated, starting with Star Wars: The Force Awakens. 
And of course, Avengers: Age of Ultron!