Dolphin Tale was a surprise success in 2011, so it should not be too much of a surprise that we got a sequel in 2014. But, if you think about it, Dolphin Tale was a true story about a dolphin who survived when a group of humans got together and made her a prosthetic tail that saved her life. How can that story continue in a sequel?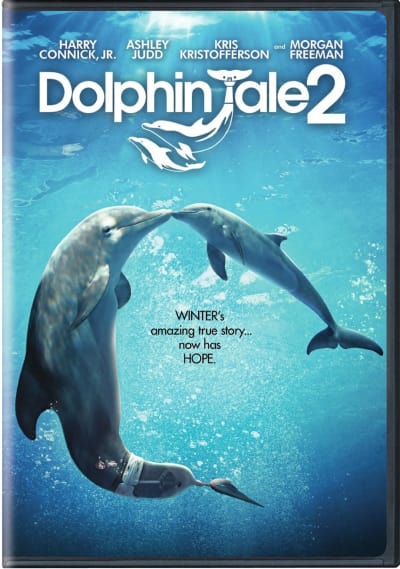 Now you can see the continuing amazing true story of Winter as the Dolphin Tale 2 DVD, Blu-Ray and digital download have arrived.
Turns out that Winter needed a friend to survive in captivity (due to the dolphin's prosthetic tail, it could never survive in the wild, and in order to thrive in an aquarium environment, a dolphin needs a companion). When one perished from old age, the clock was ticking to find a new one and that life saving soul would arrive in the form of Hope the dolphin. So, yeah, there's a pretty interesting part two to this Dolphin Tale.
As teased in the Dolphin Tale 2 trailer, the original cast returns in the sequel to reprise their roles, including Harry Connick, Jr. as Clay, the leader of the aquarium, Nathan Gamble as Sawyer Nelson, the boy that found Winter who we discover has a promising career in oceanic sciences ahead of him, Ashley Judd as Sawyer's mom, Kris Kristofferson as Connick's father and Cozi Zuehlsdorff as Clay's teenage daughter who is also heavily involved in running the aquatic facility.
Oh, and of course you don't have Morgan Freeman in an original movie's cast and not bring him back, even though honestly, there is little for him to do in the sequel.
Our theatrical Dolphin Tale 2 review found the film to be a solid flick for families and it should be a fantastic entry into a family's home video library. This is a fine family film that both parents and children will enjoy watching over and over. The themes and inspirations never get old, that is for sure. And if it inspires a little scientist in your youngsters, all the better!
The bonus feature Dolphin Tale 2: True Story may be even better than the film itself. It's fascinating to see the real life dolphins and the people who care for them work their magic and their passion for the wild world is easily contagious. And Dolphin Tale 2: Underwater Magic is a fascinating inside look at how the film's underwater sequences were filmed. Kind of makes you want to get in the water!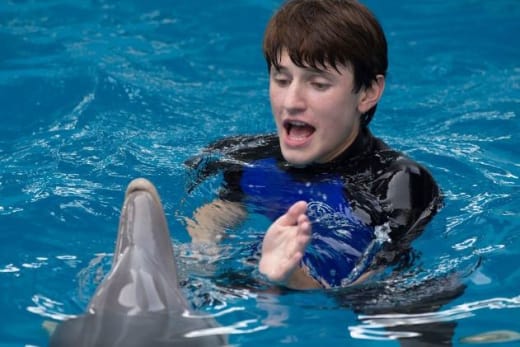 Another real life inspiration, Bethany Hamilton, cameos in Dolphin Tale 2 and it is beyond fitting. The pro surfer lost an arm to a shark and it's clear she has a kindred spirit in Winter. She has a somewhat sizable role in Dolphin Tale 2, the film, but it is her spotlight bonus feature, Bethany Hamilton Meets Winter, that is truly touching.
This is not acting. This is the real deal. Hamilton and Winter, face to face, it is hard to get any more inspiriting and emotional than the reality of that moment. We say kudos to Warner Bros. Home Entertainment for putting this one on the home video release for Dolphin Tale 2.
Speaking of inspiration, Dolphin Tale 2: The Mission explores the ongoing fight that this story captures to keep the oceans safe. There are tens of thousands of people out there doing everything they can to ensure that life underwater continues to exist as it has for hundreds of thousands of years. And that is captured impeccably in this featurette. Again, this is a must-see for the kids and if it inspires, all the better.
The Dolphin Tale 2 DVD and Blu-Ray also include a couple of music videos, Cozi Zuehlsdorff's Brave Souls and Gavin DeGraw's You Got Me.
Lastly, the Blooper Reel is enjoyable to watch if for no other reason than that pesky penguin. For those of you that saw Dolphin Tale, you know what we mean. And if not, watch Dolphin Tale online and discover how the story started and then watch Dolphin Tale 2 online.