Luke Evans was the perfect choice to give us a fresh take on the legend of Dracula with Dracula Untold. The film would bank $212 million globally and now Universal has announced plans for the DVD, Blu-Ray and digital download arrival of the hit film, including release dates and a bevy of bonus features.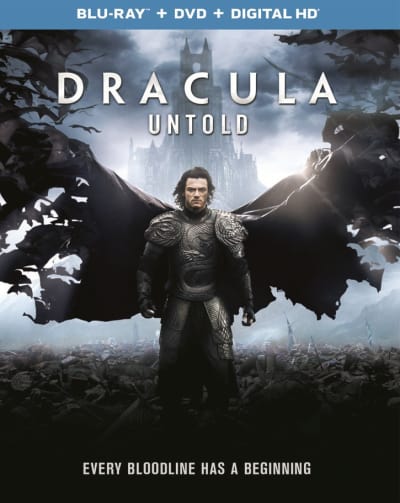 Look for Dracula Untold on Digital HD on January 20, 2015 and it hits DVD and Blu-Ray on February 3, 2015. Check out the new trailer for the home video release!
The film gave us some incredible Dracula Untold quotes, but illustrated why the man became a monster who would earn eternal life and suffer great cost. As we stated in our Dracula Untold review, in the hands of Evans, we feel his pain as he becomes the dark lord, all in an effort to save his family and his people.
When it comes to bonus features, here's what Universal announced.
Blu-Ray Bonus Features:
Alternate Opening
Deleted Scenes
The Land of Dracula – An exclusive interactive map that takes fans deep into Dracula's mysterious world, including Castle Dracula, Cozia Monastery, Broken Tooth Mountain and Borga Pass.
Luke Evens - Creating a Legend
Blu-Ray/DVD Bonus Features:
Day in the Life - Luke Evans: Personal moments with the film's star provide a glimpse into life on set.
Dracula Retold – An exploration of the production, including costumes, sets and how the real history of Dracula is woven into the story.
Slaying 1000 – A behind-the-scenes look at the making of Vlad's epic battle against an army of thousands, from the script and visual effects.
Feature commentary with director Gary Shore and production designer François Audouy.