Fifty Shades of Grey: Prep Work Had Jamie Dornan Taking a "Long Shower"
by Joel D Amos at . Comments
How does one get ready to play one of the more kinkier roles that has been portrayed onscreen? If you're Jamie Dornan, you go to a sex club where you can learn all about what Christian Grey is into: domination. You know, it's teased throughout the Fifty Shades of Grey trailer!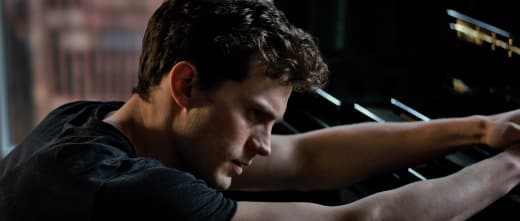 Dornan chatted about the experience with Elle UK and his take on the entire foray is fascinating, and slightly funny!
"I went there, they offered me a beer, and they did…whatever they were into. I saw a dominant with one of his two submissives," Dornan said.
"I was like: 'Come on, guys, I know I'm not paying for this but I am expecting a show.' It was an interesting evening. Then going back to my wife and newborn baby afterwards... I had a long shower before touching either of them."
We have a feeling many who witness Fifty Shades of Grey may need a shower too after it debuts February 13, 2015.