Guardians of the Galaxy DVD Review: A Sensational Spirit in the Sky!
by Joel D Amos at . Updated at . Comments
Guardians of the Galaxy has arrived on DVD, Blu-Ray and digital download and it's the rare film that can be seen over and over and over, so this is one we clearly recommend for purchase.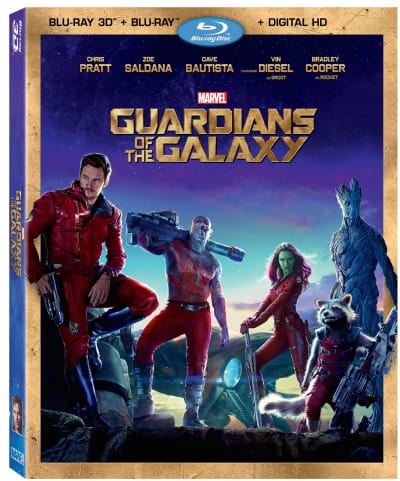 Who knew when that first Guardians of the Galaxy trailer arrived all those months ago, that this "risk" of a Marvel Studios movie with five unknown Marvel superheroes would go on to become the highest grossing film of 2014?
With $645 million earned so far globally, this is the movie that won't quit, and with its arrival on home video, it's great to have Chris Pratt as Star Lord, Zoe Saldana as Gamora, Dave Bautista's Drax and the voices of Bradley Cooper as Rocket and Vin Diesel as Groot at our fingertips!
Those Guardians of the Galaxy quotes were not the only selling point here. Of course, the script by writer-director James Gunn is nothing short of brilliant. It is fun, enlightening, action-packed and filled with heart. But, what also sets it apart are the stunning visuals created by Gunn and his team and this world that feels so far away that, dare we say it, reminds us of a certain Star Wars universe with its attention to detail and grounded in a reality that clearly doesn't exist way.
As we stated in our theatrical Guardians of the Galaxy review, this is not just a fantastic superhero movie, the flick is one of the best of 2014… period! And to have the DVD, Blu-Ray or digital download out now not only makes it a great gift for any film fan out there, but might we suggest you treat yourself to one of the more enjoyable cinematic experiences we've had in some time.
And it's not just the fab five that pull us in. The cast is stellar and rises to the challenge. Our favorite heroes are in a classic battle of good (or is it not-so-good?) versus evil that takes the form of Ronan the Accuser (Lee Pace, who kills it). We also treasured Michael Rooker as Star Lord's adoptive father, Yondu Udonta, and Benicio del Toro as The Collector (who has a fantastic post-credits scene if you missed it in theaters).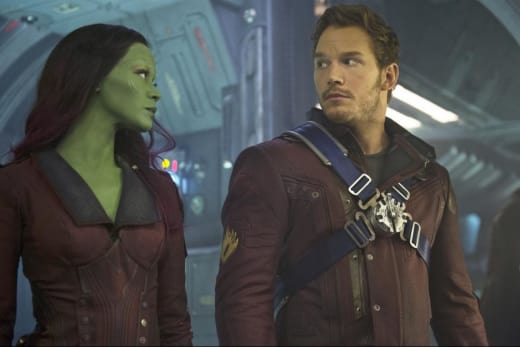 When it comes to bonus features for the Guardians of the Galaxy DVD and Blu-Ray, it's hard to know where to start because it's so clear that Gunn put a whole lot of thought into making this one of the best home video releases of the year and not just one of the best films of the year.
The look of the film is explored in a making-of featurette and one aspect of it that we found particularly fascinating is the makeup and how so many of the characters (including Drax and Gamora) had to endure hours and hours of applications that would only be the beginnings of their day. To think that they then had to work for hours on end making a Marvel movie and all those pressures that come along with it -- that makes the viewer appreciate everything the cast had to do to bring us one of the best movies of the year even more.
We adore the extended scene featuring Rocket laughing at Peter Quill, aka Star Lord's plan, or lack thereof. There is a whole lot of laughing (fake or otherwise) that we didn't get to see in theaters and it also gives us a little more background into the dynamic of the group as they each comment on Quill's "plan."
Another deleted scene that fans will treasure is simply titled Sisters. It features Saldana's Gamora battling her "sibling" Nebula (Karen Gillian) about who's a better killer. We wouldn't argue with either.
The gag reel works so well for a live action movie, but also embraces some of the things that animated movies have done of late. We particularly enjoy a couple of laugh-out-loud moments featuring the CG characters of Rocket and Groot -- no spoilers here as to details, just don't miss this entire featurette.
Last, but not least, always thinking about their Marvel Cinematic Universe, the inclusion of an exclusive Look at Marvel's Avengers: Age of Ultron is a holiday gift from Kevin Feige and his team that takes us behind the scenes of next summer's surefire blockbuster hit and explores Joss Whedon and what he promises to bring our way as a follow-up to The Avengers, our previous best Marvel movie.
Now that title belongs to Guardians of the Galaxy.
Watch Guardians of the Galaxy online right now and enjoy it again and again!