Inherent Vice: Josh Brolin on Paul Thomas Anderson's "Ambiance of Possibility"
by Joel D Amos at . Updated at . Comments
As you can tell immediately in the Inherent Vice trailer, Josh Brolin's LAPD detective is a little behind the times of the 1970-set film from Paul Thomas Anderson (Boogie Nights, There Will Be Blood). "He's not only a generation behind, he's like a generation and three quarters behind," Brolin told Movie Fanatic.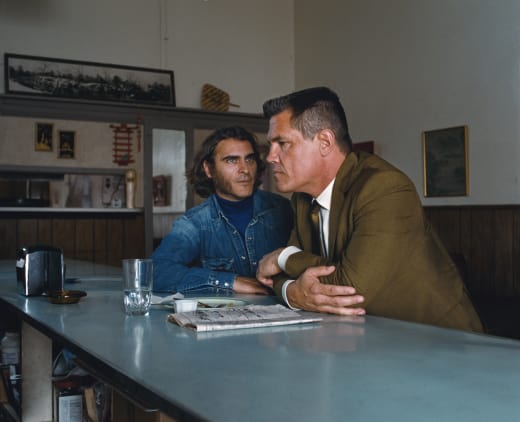 "He refuses to let go of that Right Stuff image he has of himself and how life should be. And yet, he's not intelligent enough or impactful enough to understand you have to be valuable with the times."
In Inherent Vice, Brolin's Lt. Det. Christian F. "Bigfoot" Bjornsen has a dozen plates in the air. They include a disappearance of a real estate magnate (Eric Roberts), and his mistress Shasta (Katherine Waterston) has vanished too. When we meet Bigfoot, he is about to bring in Joaquin Phoenix's private detective, Doc, because he awoke lying next to a dead guy. And yes, they are all interconnected.
We learn that Doc and Bigfoot have a history and that Doc's private eye, in fact, has been quite helpful over the years, despite the fact that he's a pot smoking hippie that embodies a lifestyle that Bigfoot so vehemently detests. But, Brolin had a ball playing a guy who was so clueless, yet so firm in his beliefs.
"[He'll] actually get more out of Doc by getting rid of all that kind of racist or civil rights violating stuff and quit being such an idea of yourself," Brolin said.
The Oscar nominee then made a spot-on comparison. "He's a kid having a tantrum. He wants his Fruit Loops, and he's not getting his Fruit Loops. And he doesn't know how. He doesn't understand that the tantrum's not working. And he gets more frustrated because the tantrum's not working instead of being smart enough to go, 'If I maybe am really nice, maybe that will work.' But he doesn't get that."
One of the (many) aspects of Inherent Vice that is pure joy is the camaraderie between Doc and Bigfoot. "That relationship is such a marriage, like any cop relationship. It's much more functional than anything else he's doing -- even though it's totally dysfunctional," Brolin said and laughed.
Even though Brolin admitted that he and Phoenix have completely different approaches to tackling characters, once Anderson called "action" the two were effortless partners in a brilliant thespian dance.
"We gelled really, really well. I think the approaches are very different. I need objectivity. Personally, I need to be able to (expletive) around a lot -- trying to crack everybody up with whatever I'm doing. Because when I get into the scene, then I'm familiar to me, and that's good. If I'm in it all the time, I'm bored by the time I get there. That's just me," Brolin admitted.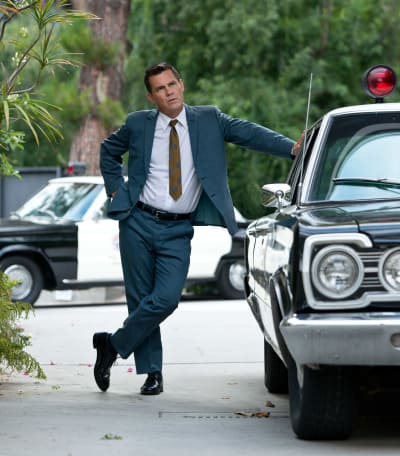 "But, Joaquin's in it, all the time. That's what works for him. When we were in it, we were very similarly convicted. Total conviction once you're doing it. And then whatever you're doing otherwise is none of my business."
From Mark Wahlberg and the all-star cast of Boogie Nights, through Philip Seymour Hoffman in The Master, actors line up to work with Anderson. His vision is unique, sublime and impeccable. Brolin was no different.
"He's a guy who creates an ambiance of possibility. First of all, when you see There Will Be Blood, or you see raining frogs in Magnolia, you're like, 'Okay, he's willing to kind of go into a different place.' He has a perspective that I think is interesting, personally. So why would you not do it?" Brolin said.
Then, you jump in and see the reason why everyone lines up to work with Anderson. The two crossed paths during awards season a few years back. Brolin was promoting No Country for Old Men and Anderson had There Will Be Blood. Immediately, just being in a room with Anderson, Brolin was hooked.
"It's like this guy works with the greatest actors out there, and that's it. It's not like, 'Oh, I'd really like to work with Paul Thomas Anderson.' It's just that's probably something that's not going to happen," Brolin said and smiled.
"Then you get a call saying, 'Look, I think I may have some work for you.' That was the line! Paul said that to me! And then you're on set with this guy, and he's like your brother. And I don't mean your bro, I mean actually like your brother. We understand the same things. We have the same references. We appreciate a lot of the same absurdities. And we see the humanity in those absurdities."