Into the Woods Exclusive: Tracey Ullman on Her "Wonderful Journey" With Sondheim
by Joel D Amos at . Updated at . Comments
Into the Woods has been resonating with audiences for decades and now it has anew with the film version from Disney. The Stephen Sondheim musical comes to the big screen, directed by Chicago helmer Rob Marshall, and stars Meryl Streep, Emily Blunt, Chris Pine, Anna Kendrick and Tracey Ullman.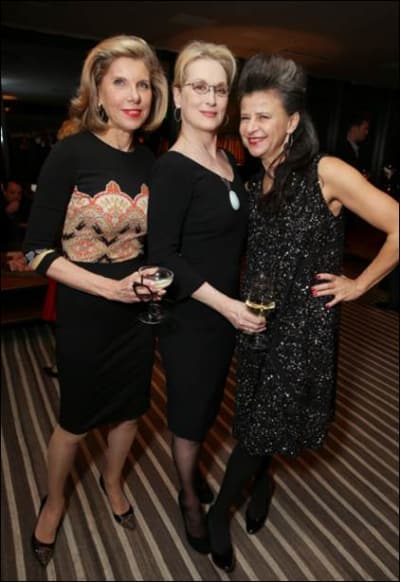 We caught up with Ullman for an exclusive interview as the film arrives in theaters and she gives us her unparalleled insight into the intense effort in bringing a musical to the screen that is complicated to put it mildly. Ullman also tells us her favorite songs and why it is that Into the Woods has struck such a chord in our culture.
Movie Fanatic: Sondheim's music and lyrics are notoriously tricky. Was that your biggest fear or challenge heading into the Into the Woods experience?
Tracey Ullman: What I did was challenging, and I was thrilled to do it. The big challenge, for me, was to get cast. Everyone wanted to do this because it's amazing. It's like Shakespeare. I'd seen my son's production of this in middle school. I watched it 14 nights in a row. I fell in love with it. It's just the nuances of it are so incredible. Every night I'd come away from it thinking, "Oh, it means this. Oh, it means that." The complexities of it are amazing. To get cast, I had to audition and wait to get the part. Then I got it and I was just so pleased to be a part of this. And then Rob Marshall is so fabulous and understands it oh so well and is so well prepared. He worked so long with Lapine (James, writer) and Sondheim to make sure what went to the screen was in the spirit of the musical. I worked so hard, even on that first line where I sing, [sings] "I wish my son was not a fool. I wish the cow was full of milk. I wish the world was full of gold. I wish a lot these things." It's so much about acting as well. It was a challenge to get cast and once you got the job, everyone was so protective and thrilled to be a part of it. It was a wonderful journey.
Movie Fanatic: You mentioned Rob Marshall, and even in his non-musical works, I've talked to actors who say he has such a musicality to him, even without music! Did you notice that about him that he has a gift of the beats of movie making?
Tracey Ullman: I worked with his sister Kathleen Marshall and these kids grew up in the Midwest and they just love musicals. They really respect this fantastic era of the musical. They are performers themselves and they really get it. They get the bits that need to be heightened and they get the reality of it. It's never phony. They understand how to develop a performance. They really are a treasure. We were in the right hands. The way he put it together and the way he paced it, it's not an easy thing to do. Everybody gets what they wish for at the end of act one. And then it all falls apart. It's not an easy story to tell. It's the sort of movie you'll watch again and again. It just lends itself to film so well. I mean, even the prologue where you meet all the characters, it works gangbusters.
Movie Fanatic: I have had the luxury of seeing it twice, and I cannot wait to see it again.
Tracey Ullman: It is that movie you have to see repeatedly.
Movie Fanatic: You got to work closely with the chap who plays Jack, Daniel Huttlestone. The casting of that was so key. What made him so special?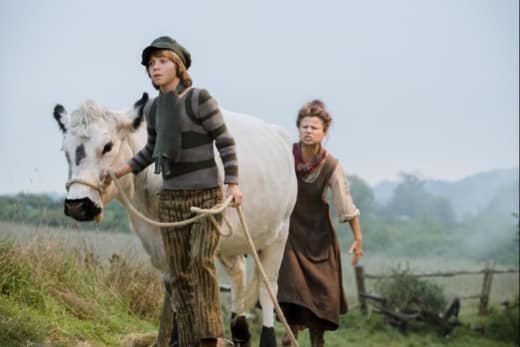 Tracey Ullman: I love him. He's a great fellow. We got on so well. He sings beautifully. He was in Les Mis and his acting is so intense. He's like someone who would be Elizabeth Taylor's friend in an old MGM movie! Daniel singing Giants in the Sky, it just kicks the whole movie off.
Movie Fanatic: Do you have a favorite song from Into the Woods? Or is it hard to choose?
Tracey Ullman: You Are Not Alone, I just love that. And I love Chris Pine singing Agony, I think it is just sublime. He had no idea he could sing and you can sense the joy in that. He reminds me of a Peter O'Toole or a Richard Burton. He's amazing.
Movie Fanatic: You saw it many times with your son's production and are an integral part of it here with the film. What do you think it is about Into the Woods that it is so resonant?
Tracey Ullman: It's about so many things. It's about mothers. It's about family. Rob Marshall says he was so inspired by Obama speaking to the 9/11 families and he said, "You are not alone. No one is alone." When Rob was putting the movie together, he thought, "Oh my goodness, Obama is quoting Sondheim." It's powerful. They wrote this and gathered all the Grimm fairy tales and put them together, but it's not that happily ever after! It's where women cut their daughter's feet off to fit into shoes so they'll marry a prince. You lock your daughter in a tower and then you blind her boyfriend. It's horrible stuff! Fairy tales on film have been so sanitized in films in the last 20 years. These stories, I remember as a child, they really had an affect on me. They were tales to tell you, "Be careful! Don't go into the woods!" I'm glad we're interpreting them in that way. 
Don't miss our four-star Into the Woods review for more on this outstanding film.