Into the Woods Review: Meryl Streep Hits All the Right Notes (Again)
by Joel D Amos at . Updated at . Comments
Stephen Sondheim is not the easiest of composers to bring to life on the silver screen. His Broadway work is stunning and rich and where Tim Burton was perfect for Sweeney Todd, the living legend lucked out again with the hiring of Rob Marshall (Chicago) to helm the movie version of his iconic Into the Woods.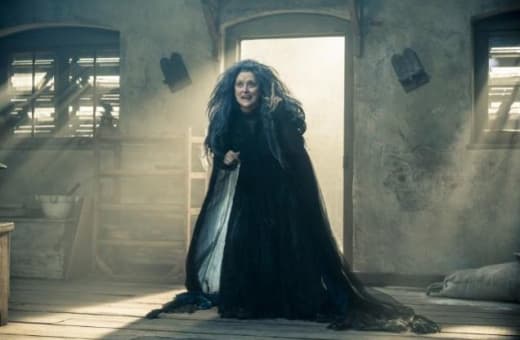 Sondheim has won an astounding seven Tony Awards because he crafts musical moments that seem to come from out of this world. His Into the Woods is a meshing of some of our favorite Grimm fairy tales through a musical menagerie. There's Jack (Daniel Huttlestone) and the Beanstalk, Cinderella (Anna Kendrick) and Prince Charming (Chris Pine), Little Red Riding Hood (Lilla Crawford) and the Big Bad Wolf (Johnny Depp).
But centering our story are two characters that Sondheim has added to the Grimm world -- the Baker (James Corden) and His Wife (Emily Blunt). As our film begins, the evil witch (Meryl Streep) lets them know that if they want to have a child, they must break a curse that was put upon his family years before. Simply bring the witch a few items (from the other Grimm characters) and the spell will be broken and a child will arrive to the happy couple. They only have three nights to do it.
Marshall has always had a penchant for rhythmic and musical direction, even in his non-musical movies. But with Chicago he showed why he may be the premier helmer when it comes to taking a Broadway show and giving it the Hollywood treatment. He has a sense of musicality that is uncanny and it is as if he and Sondheim are kindred spirits.
Is Into the Woods Best Picture Oscar good like Chicago was? Not quite, but that does not mean that it doesn't manage to hit the high notes.
The stand-out in this film, as usual, is Streep. She is an evil witch that all Grimm fairy tale witches wish they could be. She is selfishly dastardly and manages to have all of these players firmly in her grasp. Yet, she is quite maternal in her scenes with Rapunzel (no spoilers here as to how those two are connected!). When she sings, it is as if an angel has dropped from heaven.
We first saw her impeccable musical talents in Mamma Mia. As many of us know who have covered her for years, musical theater was her training ground and it is only recently that she has returned to using her singing voice as part of her priceless and Academy Award-winning characterizations.
Kendrick, who sings her heart out when you watch Pitch Perfect online, is a breath of fresh air as Cinderella. This is a character that could have been a cardboard cut-out of all those who have come before. Yet, she manages to breathe some seriously new angles into the legendary role.
The subject of her fancy, Prince Charming, is a complete and utter magical surprise. Pine can sing (and dance) and puts on a show that had to make Sondheim truly proud. If you are a Hollywood producer putting together a musical, get Pine in it… now!
Depp makes a nice wolf in a blink and you'll miss him role, but his mere presence speaks volumes as to how important this film is and why so many talented people turned out for Marshall and Sondheim.
Also, the Grimm fairy tales are seriously grim to say the least. We truly appreciate Sondheim for not shedding sunlight on these stories where there is only darkness and Marshall takes that bold move and runs with it, giving Into the Woods a true Grimm-sian feel!
The soundtrack features a bevy of classic Sondheim tunes from the title track (which commences our movie) to Stay With Me (which as sang by Streep will bring even the most hardened to tears) and Giants in the Sky.
Our Into the Woods review finds that each musical moment is even more precious than the last and what truly sets Sondheim apart, and it is evident in the screen version of Into the Woods, is how his lyrics tend to feel like they're about as rich as a musical can possess. It is as if Aaron Sorkin was penning songs. His characters are constantly moving -- singing a mile a minute at times and it requires a lot of his audience. You have to pay attention.
It doesn't pack the wallop that Marshall's Chicago did, but then again, it doesn't have to. This is a different story taking place in an entirely different world and those expecting a similar experience will likely be disappointed. But for musical theater enthusiasts, we could not recommend more that you head Into the Woods.