The next time we see Josh Brolin as Thanos may be in a few months (if he even appears in Avengers: Age of Ultron) or it could be in a few years -- as it is most likely he will next be seen in Guardians of the Galaxy 2.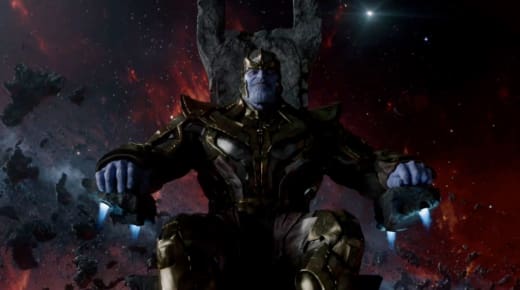 But, we had a ball watching him command the screen in Inherent Vice. Brolin plays a '70s LAPD officer named Bigfoot Bjornsen, who rules his beat with an iron fist… much like a certain Marvel uber-villain.
While talking with Brolin at the press day for Inherent Vice, the Oscar nominee shed a little light for Movie Fanatic into why he decided to take the role and what it is about Marvel's greatest villain that gets him so excited.
"I love the idea of Thanos. Ultimately, it's Thanos against everyone," Brolin reported.
"Why wouldn't you do that?"
Those moments we saw him in Guardians of the Galaxy, we knew that Marvel had cast brilliantly. He has a stature -- that even with all that makeup and CGI, screams Brolin and that is impeccable for the part of Thanos.
Turns out, Brolin knows a certain Marvel Studios co-president and it is Louis D'Esposito who we can thank for getting Brolin into the Marvel world.
"Thanos came along because of my good friend Louis D'Esposito. He and I used to train together. We did Hollow Man together," Brolin recalled.
"He called me up and started talking about this thing. It was nice because I could intimately talk to him about it -- what I liked, what I didn't like about the whole idea of it. It was really exciting because of the possibilities that it could become."
Brolin was drawn to it, not just because of the fact that superhero movies are dominating the world right now, especially those from Marvel. "[It's] just… something different," Brolin said.
"It's a character mentality."
In the mood for Marvel? Watch The Avengers online and check out the iconic studio's full schedule in the slideshow below.