Mockingjay Part 1 Wins Again: Weekend Box Office Report
by Joel D Amos at . Updated at . Comments
Despite the presence of several new highly anticipated films this Thanksgiving weekend, last week's box office champ, Mockingjay Part 1, beat back the competition and won the box office battle yet again.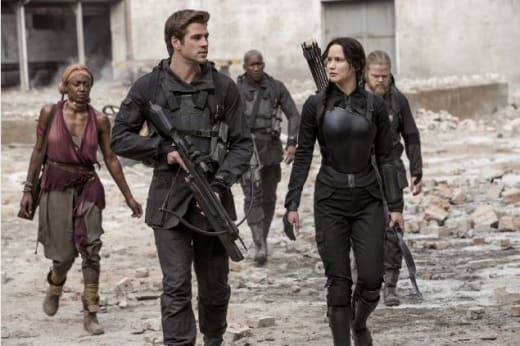 The first half of the two-part conclusion to The Hunger Games series has now banked an incredible $225.7 million in two weeks. The film had lukewarm to solid reviews (check out our Mockingjay Part 1 review) and it didn't seem to matter as audiences are flocking to witness Jennifer Lawrence as Katniss for what is the second to last time.
Second place belonged to one of those new releases, the Madagascar spin-off Penguins of Madagascar.
The story of those lovable and adventuresome penguins took in $25.8 million in its first weekend of release. The last time DreamWorks Animation released a film over Thanksgiving, it was Legend of the Guardians, and Penguins of Madagascar only did a wee bit better.
Big Hero 6 landed in third place as the Disney flick continues to bring in moviegoers in its fourth week of release. The movie, based on the Marvel comic book, has earned a whopping $167.2 million since it debuted.
Fourth place found the Christopher Nolan film that has quickly become his highest grossing non-Batman movie, Interstellar. The Matthew McConaughey-starring sci-fi flick added another $15.8 million to its total of $147 million.
Closing out the top five was the other new release, Horrible Bosses 2. The Jason Bateman, Jason Sudeikis and Charlie Day comedy had to be disappointed with its finish of $15.7 million. Its five-day total was $23 million, $5 million less than it made in a three-day weekend opening in the summer of 2011.
Box Office Top 10:
1. Mockingjay Part 1, $56.9 million
2. Penguins of Madagascar, $25.8 million
3. Big Hero 6, $18.8 million
4. Interstellar, $15.8 million
5. Horrible Bosses 2, $15.7 million
6. Dumb and Dumber To, $8.3 million
7. The Theory of Everything, $5.1 million
8. Gone Girl, $2.5 million
9. Birdman, $1.9 million
10. St. Vincent, $1.8 million