Star Wars The Force Awakens Photo: Millennium Falcon Close-Up!
by Joel D Amos at . Updated at . Comments
Although it was a pretty spectacular debut for the Millennium Falcon in that Star Wars: The Force Awakens teaser trailer, we haven't gotten a really good look at the "hunk of junk."
Now, we have a peek and it arrives courtesy of Fortune Magazine, of all places.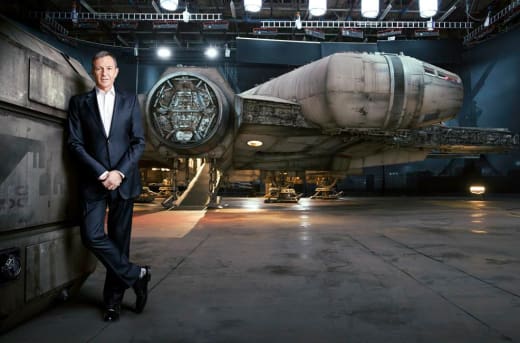 The shot features a cover story on Disney CEO Bob Iger, and it shows the head of the Mouse House standing on the Star Wars: The Force Awakens set in front of the iconic space ship. The story is quite fascinating and chronicles how Iger has overseen the growth of Disney, a company that now includes Marvel and Lucasfilm.
We adore the fact that director J.J. Abrams is using a practical set for the Han Solo ship and think that it speaks volumes to how much practical shooting he did versus special effects and CG.
Mark Hamill, Carrie Fisher and of course the man who plays the pilot of the Millennium Falcon, Harrison Ford, will all be back in the film that arrives December 18, 2015. You think this flick is the most anticipated movie of 2015? Yeah, it is by a long shot!
Star Wars: The Force Awakens also brings back Anthony Daniels and Peter Mayhew while introducing John Boyega, Daisy Ridley, Adam Driver, Oscar Isaac, Domhnall Gleeson, Lupita Nyong'o, Andy Serkis and Max von Sydow.
Check out all of our photos from the upcoming Star Wars: The Force Awakens.