Star Wars The Force Awakens Trailer: George Lucas Won't Watch It!
by Joel D Amos at . Updated at . Comments
In a piece of news that we actually don't find all that surprising, it turns out that George Lucas has not seen the Star Wars: The Force Awakens teaser trailer.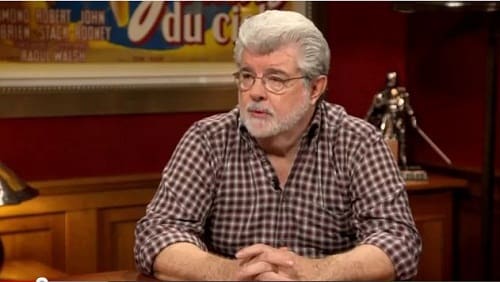 Not only have we seen it dozens and dozens of times, but we've also enjoyed the parody versions, like the Star Wars: The Force Awakens trailer George Lucas edition.
See, that's probably the reason why right there. Lucas has taken such hits from fans since he decided to not only do his three prequels that many thought were terrible, but when he tinkered and tinkered with Episodes IV, V and XI, it angered many of the faithful. They believed that he should have left well enough alone.
In talking with the UK's Page Six, Lucas admitted that he has no idea which way The Force is going, at least in terms of the film's first visuals for the teaser.
"I don't know anything about it. I haven't seen it yet," Lucas admitted.
The reason, he says, has more to do with the fact that it's not in the movie theaters, and that's how he likes to watch his films. "I like going to the movies and watching the whole thing there. I plan to see it when it's released."
So, does he have any interest in seeing J.J. Abrams' direction for the franchise he started in 1977? "Not really," he reported when asked if he was curious to see where Abrams would take it. Wait, what?!
Does someone have buyer's remorse?
Star Wars: The Force Awakens lands December 18, 2015 and brings back Harrison Ford, Mark Hamill, Carrie Fisher, Peter Mayhew, Anthony Daniels and introduces John Boyega, Daisy Ridley, Adam Driver, Oscar Isaac, Andy Serkis, Domhnall Gleeson, Max von Sydow and Lupita Nyong'o, among others.
Check out what we took away from the Star Wars: Episode VII teaser below!