Star Wars: The Force Awakens Trailer Reaction Moves Mark Hamill
by Joel D Amos at . Updated at . Comments
The reaction to that Star Wars: The Force Awakens teaser trailer has been seismic. Sure, George Lucas hasn't seen it, but tens of millions of people have.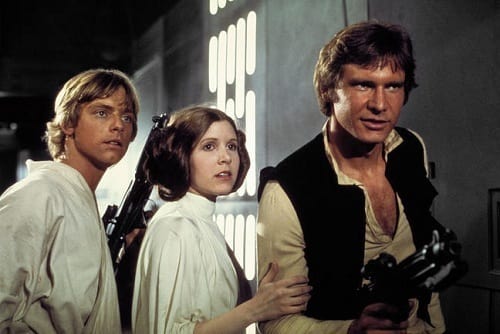 Heck, it's one of the 9 Most Watched Trailers of 2014 on YouTube!
That fact, and the legions of fans that shot video reactions and posted them to their social media feeds, has star Mark Hamill a little blown away. And given the mania he saw firsthand with the first Star Wars trilogy back in the day, that is saying something.
"I'll tell you, the most moving aspect of them releasing that trailer was watching a [video] of other people watching it. My daughter put it on for me. It was all these people watching the trailer," Hamill told IGN.
"Sometimes you get sort of isolated and disconnected because I don't really follow it as closely as, say, [my son] Nathan does, but to see those people that thrilled, it was moving to me. I actually got a lump in my throat watching that. To see so many people that happy was a thrill."
Hey Mark, we got a lump in our throat just watching the teaser!
Star Wars: The Force Awakens lands December 18, 2015 and that day cannot get here soon enough.