Suicide Squad Cast Revealed: Jared Leto Is The Joker!
by Joel D Amos at . Updated at . Comments
It's been rumored for weeks, but now we know for sure: Jared Leto will be the Joker in The Suicide Squad and he's not alone in the casting awesomeness.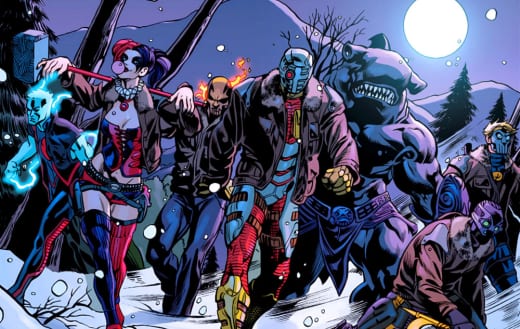 Previously Warner Bros. and DC Comics had announced plans for a Suicide Squad movie from director David Ayer (Fury, End of Watch). Now, we know who will be in it and it's impressive to say the least.
Look for the Suicide Squad (a collective of DC Comics' best villains) to be made up of Will Smith as Deadshot, Tom Hardy as Rick Flagg, Margot Robbie as Harley Quinn, Jai Courtney as Boomerang, Cara Delevingne as Enchantress and of course Leto as the Joker.
Regardless of the film's genre or background, you tell me there's a movie with Smith, Hardy and Leto together -- we're there. And then throw in the fact that it's a DC Comics movie that brings some of our favorite villains together in the same movie… our head might just explode.
Greg Silverman, President, Creative Development and Worldwide Production, Warner Bros. Pictures could not be more excited.
"The Warner Bros. roots are deep on this one. David Ayer returns to the studio where he wrote Training Day and brings his incredible ability to craft multidimensional villains to this iconic DC property with a cast of longtime Warner collaborators Will Smith and Tom Hardy, and other new and returning favorites: Margot, Jared, Jai and Cara," Silverman said.
"We look forward to seeing this terrific ensemble, under Ayer's amazing guidance, give new meaning to what it means to be a villain and what it means to be a hero."
Ayer first grabbed our attention as the screenwriter with Training Day and gave Denzel Washington the character that put another Oscar in his hands.
We cannot think of a better helmer to bring Suicide Squad to life and we're counting the days until the August 5, 2016 release.
And then there's Leto. We think if there's anyone who can follow up the Oscar-winning turn of Heath Ledger as the Joker, it is the fellow Oscar winner.
Do you think he'll be a good Joker?
Speaking of the Joker, watch The Dark Knight online and relive the magic.
Will Suicide Squad be one of our favorite superhero movies? Time will tell, but these ones are!