Teenage Mutant Ninja Turtles DVD Review: Turtle Power Is Back!
by Joel D Amos at . Updated at . Comments
The Teenage Mutant Ninja Turtles returned and "Shredded" the competition when they landed on screens this past summer. And now that the Teenage Mutant Ninja Turtles DVD, Blu-Ray and digital download have arrived, the holiday home video market is probably going to suffer the same fate. Sure, your kids (and, yes, longtime fans) will demand this release, but is it worth it?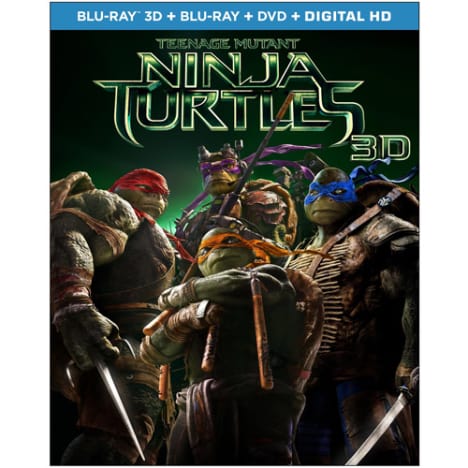 What we thought was such a nice surprise, as we stated in our theatrical Teenage Mutant Ninja Turtles review, was how far the CG has come since we first saw these guys on the big screen in the early '90s. Back then it was an impressive special effects feat, but this Michael Bay-produced action flick will leave your jaw dropping at what they're able to realistically accomplish with four superheroes that are really just jacked-up teen turtles who are expert ninjas.
As teased in the Teenage Mutant Ninja Turtles trailer, this reboot finds their fair city of New York under attack by the evil Shredder. If there's anyone who can handle what he dishes out it's Leonardo, Michelangelo, Raphael and Donatello. Someone who is not sure they are ready is the very large rat, Splinter, who has raised them since they were orphaned (a fantastic Tony Shalhoub).
While out (without Splinter) fighting crime, they run into reporter April O'Neil (Megan Fox) and her cameraman Vernon Fenwick (Will Arnett), and together they will do what they do best to make the city safe.
Director Jonathan Liebesman has filled out his cast with a solid group, including Whoopi Goldberg and William Fichtner. They all manage to deliver a solid dose of action and humor, worthy of the franchise's long history.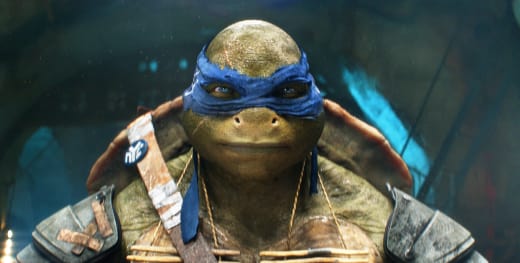 When it comes to the Teenage Mutant Ninja Turtles DVD, Blu-Ray and digital download bonus features, our favorite has to be Evolutionary Mash-Up. How did we get to where we are in the Turtles' world, cinematically and technically? This featurette is a treat for longtime fans and new ones alike as it delves into the mythology and technical leaps and bounds that make the Turtles what they are today.
In Your Face! The Turtles in 3D explores how Liebesman shot the film so that it would literally pop off the screen in 3D. As Hollywood seems to be releasing more and more titles in 3D, for those fascinated with the "how did they do it" aspect of this trend that is going nowhere, this bonus feature is an utter treat.
See, that's the thing about this Teenage Mutant Ninja Turtles package... besides those awesome Teenage Mutant Ninja Turtles quotes. It knows its audience. There are a legion of fans who have followed these cartoon characters from their first days on the comic pages to the big screen in their various incarnations. The remainder of the bonus features also plays like a "get the fans excited" greatest hits, from Turtle Rock to the Extended Ending which, might we say, is even more thrill-packed than the one seen in theaters.
Watch Teenage Mutant Ninja Turtles online now and prepare to be Shell Shocked (also included on the home video package, the music video for that song!).