The Dark Knight Rises: Christian Bale Interprets the Ending
by Joel D Amos at . Updated at . Comments
Since Christopher Nolan concluded his Dark Knight trilogy, fans have often had lively discussions about the conclusion. Spoiler alert if you haven't seen the movie: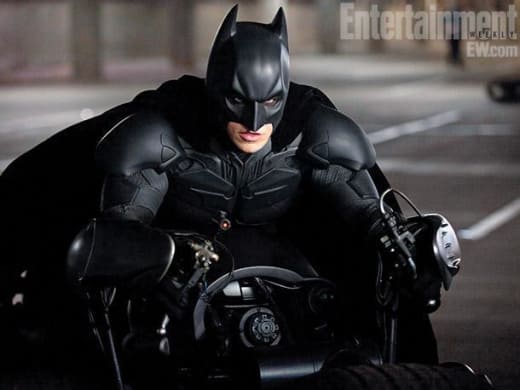 When Christian Bale's Bruce Wayne is sitting in a French café with his new girlfriend, Selina Kyle, and Michael Caine's Alfred looks on with a smile, we get the impression that our hero has left the heroic way of life behind.
But, did he?
Some feel that the ending of The Dark Knight Rises was ambiguous. Some are even of the opinion that it was a dream.
Bale, out promoting his role in Exodus: Gods and Kings, was asked in an EW Q&A on SiriusXM by a fan as to his opinion on the conclusion. And as far as we're concerned, that's the final word.
"Alfred was just content with me being alive and away from the Batman life because that was always the life that he wanted for him," Bale said.
"I find it very interesting and, with most films, I tend to always say it's what the audience thinks it is. My personal opinion is no, it was not a dream. That was for real and he was just delighted that finally he had freed himself from the privilege but ultimately the burden of being Bruce Wayne."
After all, this is not the Inception ending!
Watch The Dark Knight Rises online and see for yourself!