The Equalizer DVD Review: Denzel Rains Down The Vengeance
by Joel D Amos at . Updated at . Comments
When we first heard that they were doing a big screen version of the popular '80s TV show The Equalizer, it didn't strike us as the most compelling Hollywood news we've ever heard. But, upon discovering that it would be directed by visionary helmer Antoine Fuqua and star his Training Day Oscar-winning friend Denzel Washington in the title role, well then… anticipation for this flick went through the roof.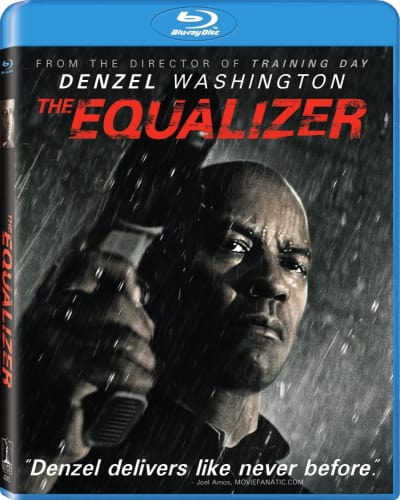 Now The Equalizer is out on DVD, Blu-Ray and digital download and as we stated in our theatrical The Equalizer review, Denzel delivers like never before. Sure, we've seen Washington accomplish all kinds of greatness and even in a role kind of like this one (Man on Fire). But, there is something about his characterization of Robert McCall and even how he executes his action sequences -- it is a marvel of both performance and panache.
As teased in The Equalizer trailer, Washington is an ex-special ops military man resolved to the quiet life of working at a Home Depot-type store in Boston. There's a problem, since his wife died, he hasn't been able to sleep. So, armed with some of the most classic pieces of literature ever written, he heads to a local diner. It is there he meets teenage Russian prostitute Teri (a fantastic Chloe Grace Moretz). He becomes almost like a father figure to her so you can imagine when Russian gangsters put her in the hospital, all that resolution about never going back to the life of a violent soul goes right out the window.
By the mid point of The Equalizer, Washington is in a one-man war with the Russian mafia that goes all the way to Moscow.
We think this is a role custom fit for Washington's talents as a thespian, but also as an action hero who we believe would do the right thing, even when there's nothing but wrong all around him. And as you see when you watch Training Day online, he and Fuqua have a shorthand that works brilliantly in The Equalizer. We're thrilled they'll be making a second Equalizer movie and they're even re-teaming for The Magnificent Seven.
As this is so the Washington and Fuqua show, as you would imagine, the bonus features that focus on those two are at the top of the list -- especially the six behind-the-scenes featurettes.
Our favorite has to be Denzel Washington: A Different Kind of Superhero. Nothing captures what Washington does so well as the title of this featurette. And then there's the documentary short itself. Rarely have we been given insight into not only an actor's method of characterization, but also the painstaking choreography that goes into a fight sequence and even how it all adds up to something that completely and wholly comes out of the part of McCall. By the end of this featurette, it'll be hard to tell where Washington ends and McCall begins.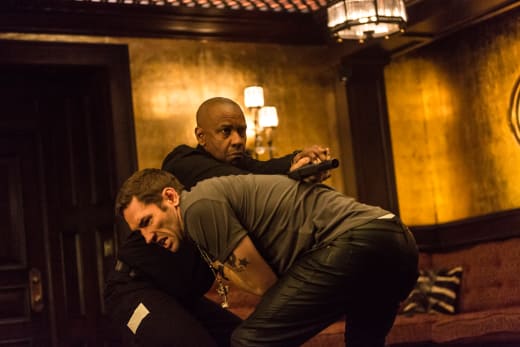 His partner in crime in this flick gets the spotlight in the fascinating Equalizer Vision: Antoine Fuqua. This bonus feature literally makes us feel like a fly on the wall at the Boston set of the thriller -- as Fuqua works his magic we not only see it but honestly feel it as well. And as we stated earlier, Fuqua and his star are just starting to find their rhythm (which is scary in the best of ways) and seeing them truly collaborate on The Equalizer may be the film's greatest gift.
No spoilers here, but the final sequence is an action piece that is utterly breathtaking in execution, scope and visualization. Home Mart: Taking Care of Business One Bolt at a Time is a film school lesson in how you cap off an action thriller with an action sequence that is worthy of all that came before. Too many films forget what and who they are before they conclude and The Equalizer does not do that. And that evidence is seen and makes us educated in the art of the action thriller as seen through the eyes of one of the great visionaries working today, Fuqua.
Lastly, One Man Army: Training and Fighting is a incredible look at how Washington and stunt coordinator Keith Woulard literally built a one-man army and how it would be believable that one man (especially of his age!) is so able to "equalize" the danger and bring justice to those who cannot achieve it on their own.
Watch The Equalizer online now and get ready for some action and don't miss our favorite The Equalizer quotes.