Capturing the tragedy that tens of thousands experienced who would become known as the Lost Boys of Sudan in a narrative on screen is one tough task. How does one chronicle horror, hope and unimaginable heart that is reflective of what so many experienced? That is exactly what was accomplished with The Good Lie and now that it is out on DVD, Blu-Ray and digital download, the world can discover as important a story as was told in 2014.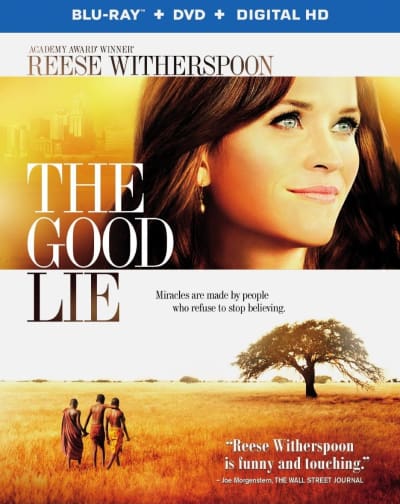 Sure, as is seen in The Good Lie trailer, Reese Witherspoon headlines.
But we don't even meet her caring character until the second act. Screenwriter Margaret Nagle had the guts and the power of presence of mind to have our first act simply introduce us to a group of Sudanese refugees and the atrocities they experienced before even getting the once in a lifetime opportunity to make a new life in America.
The film stars real-life Sudanese refugees Arnold Oceng and Kuoth Wiel, who are joined by actors of Sudanese background Ger Duany (who is astounding) and Emmanuel Jal (both former child soldiers and Lost Boys) and Femi Oguns.
We first meet them as young children in the war torn nation (the younger actors who play them are riveting). They are living their lives in their village, content to play and live lives as young kids do. Then, horror hits and soldiers come in and destroy their village and leave them orphans wandering the desert seeking refuge. They wind up, after walking thousands of miles, at a refugee camp and nearly a decade goes by before they score the opportunity to come to America.
It is then that our Lost Boys get found (although adjustment is hardly easy) and are placed in the Midwest and find an unlikely ally in Witherspoon's employment expert who helps them get jobs and get settled, along with the help of a church worker (Sarah Baker).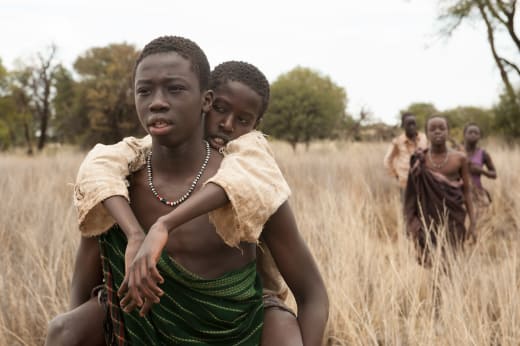 Nagle's script finds a home run-hitter in director Philippe Falardeau. His ability to not only capture the horrors of Africa but the challenges found on the streets of America is uncanny. There is an even hand to his direction and as we stated in our theatrical The Good Lie review, this is an important story to tell and the scope of it is so vast. Having Nagle and Falardeau is a dream team of cinematic power that impressively and intelligently captures the Lost Boys experience.
We cannot recommend this film more as it is one of the more important films to land this decade. The Lost Boys experience is one that the world must learn about so that we can avoid this type of atrocity happening again in our lifetimes, or ever.
The bonus features are somewhat limited, but that is because there is little that needs to be said here beyond the statement that the movie itself makes.
Yet, The Good Lie Journey is one fascinating documentary featurette that looks at the incredible effort the film took to even make it to the big screen. We hope that more in Hollywood see not only The Good Lie, but this The Good Lie Journey featurette to witness and learn how an important story can come to the big screen that enlightens, entertains, and uplifts.
It also must serve as an example of how we need more powerful tales such as this one out there in the world.
Watch The Good Lie online now and prepare to be moved.