The Hobbit The Battle of the Five Armies Wins Again: Weekend Box Office Report
by Joel D Amos at . Updated at . Comments
Despite an onslaught of new films -- there were seven released over the holidays -- The Hobbit: The Battle of the Five Armies kept its command over the weekend box office and took the title for the second week in a row.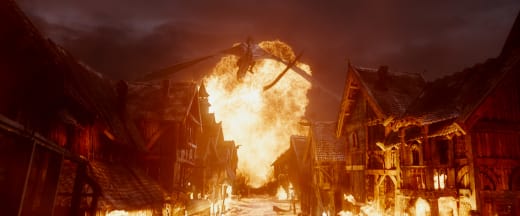 Unbroken may have won Christmas Day, but it fell to second place over the long weekend.
Its total haul came to an impressive $47.3 million, with $31.7 million arriving over the last three days. The Angelina Jolie-directed true story was in an intense battle for second place as the Disney musical Into the Woods finally fell to third, just under Unbroken.
Into the Woods banked $31 million after a $15 million Christmas Day debut.
Fourth place belonged to the Ben Stiller comedy Night at the Museum: Battle of the Smithsonian. Its $20.6 million take took its cume to $55.3 million since its debut.
Closing out the top five was another musical, Annie, with $16.6 million for a two week total of $45.8 million.
Box Office Top 10:
1. The Hobbit: The Battle of the Five Armies, $41.4 million
2. Unbroken, $31.7 million
3. Into the Woods, $31 million
4. Night at the Museum: Secret of the Tomb, $20.6 million
5. Annie, $16.6 million
6. Mockingjay Part 1, $10 million
7. The Gambler, $9.3 million
8. The Imitation Game, $7.9 million
9. Exodus: Gods and Kings, $6.8 million
10. Wild, $5.4 million