Even though it's only been on the On Demand market for a few days, those who chose to watch The Interview online have had their voices heard. The film has banked over $15 million in online sales and rentals since its Christmas Day debut. And in those couple hundred theaters, the Seth Rogen and James Franco flick has added another $3 million to its total take.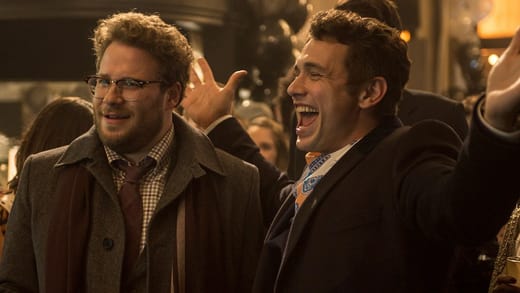 For a movie that was inches from not coming out at all, banking $18 million in a few short days when it was supposed to play in over 3,000 theaters is not bad at all.
Sure, The Hobbit: The Battle of the Five Armies won the box office, but it's hard to miss the astounding weekend that The Interview had, especially given the previous four weeks it experienced!
And since Apple didn't get the movie on its iTunes service until Sunday, look for these numbers to shoot ever higher as they are the number one online retailer for movie rentals and purchase.
The Interview has a ways to go until it recoups its $44 million it took to make the film, but we have a feeling it will get there… and then some. In fact, one could see a scenario where the movie makes its way into large theater chains once again.
What we would love to get a number on, is the actual number of people who have now seen The Interview.
Many of those online purchases and on demand purchases were done by groups of people who were making an "event" out of witnessing the Rogen and Franco comedy about a couple of journalists who head to North Korean to kill Kim Jong Un.
When all is said and done, we would not be surprised if The Interview is one of the most watched movies of the year. Although that exact number, we may never know.
Check out our The Interview review for our thoughts on the film itself.