Word here in Hollywood is that Sony is going to release a statement today about their plans of releasing The Interview. That is going directly in the face of threats made by hackers (who the FBI believes are North Korean) who made threats that The Interview disappear from social media, and even have all its trailers and clips pulled from the internet.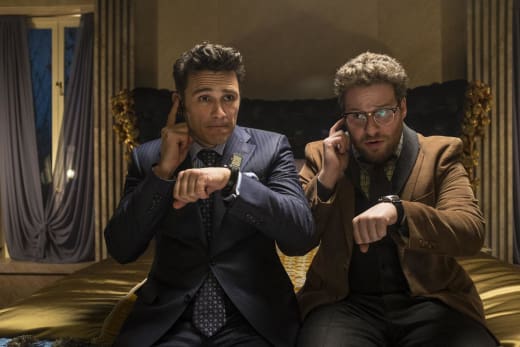 After public outcry (a recent poll has said almost three-quarters of Americans believe it was a mistake to pull The Interview), Sony appears to have reason to put the movie out there, even if the threat exists that those behind the studio hack and anti-The Interview stance, will bring "9/11-type" violence to theaters that show it.
Art house cinemas have expressed interest in showing it and there was even a deal over the weekend with The Dish Network that fell apart in the final moments to show the film.
If we were to guess, the announcement will be a limited theatrical release in smaller theaters, with a simultaneous release on video-on-demand platforms.
Stay with Movie Fanatic as we anxiously await to hear about the fate of The Interview.
Something tells us that you all are going to see this puppy after all, and by puppy we mean the adorable gift that onscreen Kim Jong Un gives to James Franco's Dave Skylark! Seriously, he's one of the cutest movie dogs ever.