The big announcement was made by Sony that The Interview will hit theaters Christmas day. Now the question is… which theaters?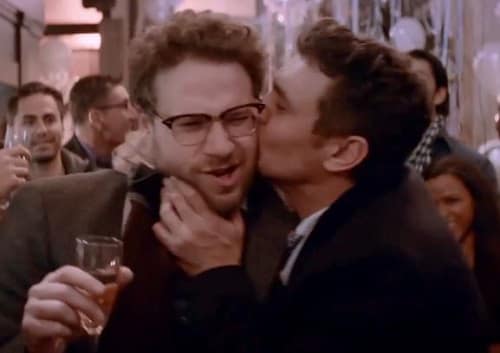 We've got a full list of the venues that are showing the Seth Rogen and James Franco international political farce that follows a couple of journalists as they head to North Korea to interview their dictator, Kim Jong Un. Sure, the CIA shows up and asks the pair to "take him out," as seen in that "In Franco & Rogen We Trust" The Interview trailer! You know, the plot line that caused this entire messy situation in the first place!
Back to actually seeing the film that has become topic "A" for the planet -- including having President Obama chime in on it.
Check out our The Interview review and then go see it in the following theaters.
 
Alabama
The Edge 12, Birmingham
Arizona
Harkins Theatres, Phoenix
Loft Cinema, Tuscon
The Valley Art, Tempe
Arkansas
Riverdale 10, Little Rock
California
Agoura Hills Stadium 8, Agoura Hills
Cinefamily, Los Angeles
Cinémas Palme D'Or, Coachella Valley
Commerce 14, City of Commerce
Crest Westwood, Los Angeles
East Hills Mall, Bakersfield
Foothill Cinema Stadium 10, Azusa
Fontana 8, Fontana
Granada Hills 9, Granada Hills
Janss Marketplace 9, Thousand Oaks
Jurupa 14, Jurupa
Los Feliz 3, Los Angeles
Mission Grove Theaters, Riverside
Laemmle's North Hollywood 7, Los Angeles (starting Dec. 31)
Perris 10, Perris
Santa Paula 7, Santa Paula
Sterling 6, San Bernardino
Van Nuys Plant 16, Van Nuys
UltraLuxe Anaheim Cinemas in Gardenwalk, Anaheim
University Village 10, Riverside
Westminster 10, Westminster
Egyptian, Hollywood
Colorado
Alamo, Littleton
Lyric Cinema Cafe, Ft. Collins
Delaware
Penn Cinemas Riverfront, Wilmington
Rehoboth Beach's Movies at Midway, Lewes
Westown Movies, Middletown
Florida
Sun-Ray Cinema, Jacksonville
Swap-Shop Drive-In, Ft. Lauderdale
Georgia
Plaza Theater, Atlanta
Illinois
Hollywood Blvd. Cinemas, Woodridge
Art Theater Co-Op, Champaign (beginning 1/2)
Indiana
Jasper 8 Theatres, Jasper
Kentucky
Maiden Alley Cinema, Paducah
Louisiana
Chalmette Movies, Chalmette
The Robinson Film Center, Shreveport
Maryland
Eastpoint Center 10, Baltimore
Massachusetts
AppleCinemas, Cambridge
Michigan
The Bijou, Traverse City
Alamo, Kalamazoo
State Theatre, Ann Arbor
Minnesota
St. Anthony Main Theatre, Minneapolis
The Film Society of Minneapolis/St. Paul, Minneapolis
Missouri
Alamo Main Street, Kansas City
Chase Park Plaza, St. Louis
MX Movies, St. Louis
New York
Alamo, Yonkers
Cinemopalis, Ithica
Cinema Arts Centre, Huntington
Island Cinemas, Mastic
North Carolina
Palace Pointe, Roxboro
North Dakora
Fargo Theatre, Fargo
Ohio
Esquire Theater, Cincinnati
Gateway Film Center, Columbus
Tower City Cinemas, Cleveland
Oklahoma
Circle Cinema, Tulsa
Oregon
Fox Theatre, Dallas
Pennsylvania
Southside Works Cinema, Pittsburgh
Rhode Island
Cable Car Cinema and Cafe
South Carolina
Terrace Theatre, Charleston
The Nickelodeon, Columbia (starting 12/26)
Tennessee
Belcourt Theatre, Nashville
Franklin Theatre, Franklin
Texas
Alamo Lakeline, Austin
Alamo Slaughter, Austin
Alamo South Lamar, Austin
Alamo Ritz, Austin
Alamo Vintage Park, Houston
Alamo Mason Park, Katy
Alamo, Lubbock
Alamo Marketplace, New Braunfels
Alamo, Richardson
Alamo Park North, San Antonio
Alamo Westlakes, San Antonio
City Base Cinema, San Antonio
Look Cinemas, Dallas
Utah
Brewvies Cinemas Pub, Salt Lake City
Megaplex Theatres, South Jordan
Vermont
Merril's Roxy, Burlington
Virginia
Alamo Loudoun, Ashburn
Cinemall, Abingdon
Washington
Ark Lodge Cinemas, Seattle
Wisconsin
State Theaters
Fon du Lac Theatre, Fon du Lac
Grand Cinema Theaters, New London