The Wedding Ringer Set Visit: Kevin Hart Says, "It's Hard To Get Sick of What's Funny"
by Joel D Amos at . Updated at . Comments
If there's something congruent to all the blockbuster characters Kevin Hart has played lately, that is hardly a coincidence.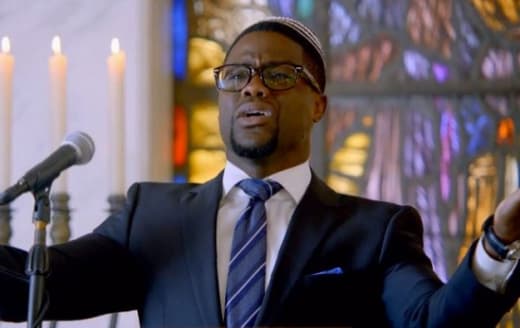 "I think the one thing that I've learned to do within doing these films is put myself in the position of whoever I'm playing. From Think Like a Man to About Last Night to The Wedding Ringer, Grudge Match, my trick is putting myself in that situation," Hart told Movie Fanatic.
"It's not changing my voice. It's not growing my hair down my back which I couldn't do anyway, or losing weight or gaining weight. It's literally taking on a persona of whatever this person does and I can see myself doing this."
We visited Hart and the cast of The Wedding Ringer on the Los Angeles set and this first part of our set visit interview series starts with the man who is clearly on fire and everywhere lately.
As you can tell from The Wedding Ringer trailer, Hart plays Jimmy, a guy who owns a business called Best Man Inc. He exists (and is quite successful) at providing a best man and groomsmen for men who are too busy making something of themselves to have a cadre of friends. In this case, it's Josh Gad's tech multi-millionaire. He's marrying Kaley Cuoco-Sweeting's character and she has an army of bridesmaids, so Hart has his work cut out for him.
"You have a certain type of person who is a loner. Biggest fear for a loner is getting married and having a wedding and your wife presenting this huge plethora of people, and as a husband, you have two people on your side and not one of those people can tell you anything about your life. To prevent that, I provide a best man service where I learn what I need to know about you and I make you look like one of the best guys who ever walked the face of the earth. And I get paid to do it. I'm very good at it," Hart said.
"Jimmy is not a bad guy. It's the chance to make this guy look great in front of so many people that have no idea who I really am."
Hart reported that Jimmy is a man of many personalities and many faces. But, he himself also has few friends and confidants. "I do so much for other people and provide for so many -- I don't have anybody doing the same for me on an emotional level," Hart said.
Hart and Gad's characters might actually become friends in The Wedding Ringer. "It's actually a really funny movie with a great emotional backstory. It's a different character for me," he admitted.
Immediately Hart said that he and Gad had instant chemistry, something that is so key -- especially in a film like this.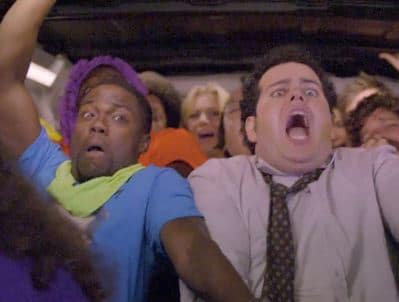 "When I told them I wanted to do the movie, me and (producer and frequent collaborator) Will Packer were talking. We thought the script was great. We were thinking about who that other guy could be. It's such an endearing character to play. There's a fine line," Hart said.
"You're playing a loser that's successful, that's not really a loser. [He] has found a woman that he thought was his dream and now that he's found her, he realizes that he hasn't lived life and doesn't know what he thought that life was. As played as a character, it is not funny. As played to where it's unbelievable, we've gone too far and the movie doesn't make sense. The beautiful thing about Josh Gad is he made it real. I believe that Josh is a guy who got a beautiful woman that he never thought he would get."
Hart promises that Gad's character goes even deeper. "The guy he's paying to make him feel better actually makes him feel better. That's what I mean about the levels in this movie. Josh is good, man. Josh is not about just being a comedic actor. I think with Josh's Broadway background and coming from an educated acting background helps him a lot. I don't have any training. I'm just a funny guy and they said action one day and I got lucky."
The comedy superstar thinks that Gad (who you can see as Olaf when you watch Frozen online) is just getting started. "Josh is an amazing guy and I think this movie is going to propel him into more fame," Hart said. "We bonded. And on this set, it's nothing but good times."
One of the producers on the set told us that he felt that Gad and Hart are the next Richard Pryor and Gene Wilder. Hart would not go that far. "That's actually too good of a comparison. The reasons why they are those guys is because they've done so much. Richard Pryor is a legend. He's on a pedestal. Gene Wilder is a legend. You're looking at two guys who have done so much for the realm of comedy," Hart said.
"You can't compare anything to those guys. What me and Josh are, are a fresh tandem. We're something that's different, something new. And you know what? Comedy craves that. We're no Pryor and Wilder, I don't want that pressure."
It's been hard to miss Hart lately. He stole scenes in Think Like a Man and he hasn't looked back since. When you watch Ride Along online, he is uttering Ride Along quotes that people will be saying for years to come. And you can't miss him on that Get Hard poster with Will Ferrell for their upcoming comedy.
But, does he ever worry about the audience seeing too much of him?
"No, you only get stretched too thin when you don't control your career. I've very much in control of what I do from stand-up to the movies. It's all a plan from releasing Let Me Explain to taking a year and a half off from touring before I go back out. You have to understand, these movies are all spread out. I'm filming them now, but they won't be out for another year. Then the movie comes out and goes away and then I go back on tour. It's a wave," Hart said.
"You have to dictate that wave and how often you want it to go up and how often you want it to go down. And as I'm a comedic relief for my fans, it's hard to get sick of what's funny."