The Wedding Ringer: Will Packer Is All About "Making Good Films"
by Joel D Amos at . Updated at . Comments
When it comes to how the man with the Midas touch, producer Will Packer, chooses projects -- it's all about the material.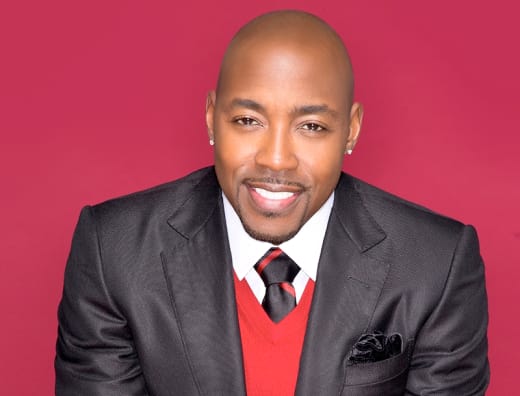 "It's tough to get movies made, so as a producer, I would be remiss if I didn't say that I had to keep an eye on what studios are looking for and the types of movies that can get made. But at the same time, you also want to choose good material. Since the first major comedy that I made, which was Think Like a Man, I've had the opportunity to do three or four comedies since then and it's an area that I'm really interested in," Packer told Movie Fanatic on the set of his latest, The Wedding Ringer.
He stresses that even with all the advancement in movie watching technology and means, there is something about the comedy that still demands you sit in the dark with hundreds of others.
"People don't really have to go to the movies anymore. You can get that experience at home, online or wherever. But comedy is something that is still a communal experience. People will still go out and sit with other people, so that they can enjoy a good comedy together."
As you can tell from The Wedding Ringer trailer, the story follows Josh Gad's Doug, who is about to marry Gretchen (Kaley Cuoco-Sweeting). There's one problem. Doug has no friends and, as such, no best man and certainly no groomsmen. So, what's a guy to do?
He hires Kevin Hart's Jimmy who owns Best Man, Inc. Jimmy provides the entire "Golden Tux" package that includes Jimmy as your best man and as many groomsmen as you need. It is all done with a professionalism that would convince an entire wedding that these people are truly your close comrades.
When asked how someone like Gad could "get" a girl like Cuoco-Sweeting and not have any friends, Packer doesn't even flinch in speaking what is in fact the truth in 2014.
"As you know, in America, you can get a hot wife. He's doing well for himself financially, so you can read between those lines," Packer admitted.
"He's put himself at a certain level, where he has been able to score somebody on the level of Kaley Cuoco. But his business skills don't necessarily translate, as is often the case, into his social skills, so he's a bit socially awkward. The way that Josh expertly plays his character, you ultimately get invested in him."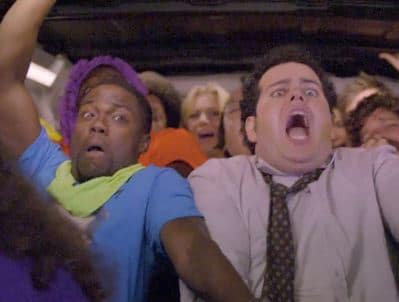 The Wedding Ringer is Packer and Hart's fifth movie together and clearly the uber producer wouldn't work with the guy if he didn't have the most supreme of talents -- which he clearly does. All you have to do is watch Ride Along online for starters!
"He's a great talent, and he's definitely somebody to watch. He's in his moment, right now. I sent him the script [for The Wedding Ringer]. Kevin felt it was something very different from the characters that he's had the opportunity to play, and he was excited about the chance to broaden out and show some range," Packer said.
"Jimmy has to assume these different roles and pretend to be various people, but at the end of the day, what he's afraid of is commitment and relationships in his own life. So, through the course of this film, we see that he discovers a little bit about who he really is, as a person, and he gets closer than he thought he'd ever allow himself to get with the Josh Gad character."
The key to The Wedding Ringer working, which we can see it well judging by that The Wedding Ringer holiday trailer, is the chemistry between Gad and Hart. "They have such an interesting chemistry. It's not unlike what you see when you think about Will Smith and Kevin James in Hitch," Packer said.
"Jimmy is the slick, smooth talker who's always got it together. He's a rapid-fire, hip dude. And then, Doug is the stumbling, bumbling, lovable loser who you're afraid may trip, walking down the street. There are elements, though, that you don't initially see in each of them. Jimmy is not quite as cool as he'd like to be, and Josh has actually got it more together than you think that he does. Together, it's a great chemistry. You want to see more of them on film, giving each other the business, having fun with each other and, at the end of the day, becoming very close in a relationship that, as the audience, we also become invested in."
Packer clearly has set himself apart from many producers out there. He is not confined to one genre and we think he is just getting started. This is the tip of the iceberg of a super producer in the making.
"I happen to be an African American film producer, but I can do a variety of genres and a variety of themes. I have no shame in the fact that I've done films that have played very, very well with African American audiences and have themes that are culturally relevant to that audience," Packer said.
"But I've also done films like The Wedding Ringer, which is just a broad comedy. There's nothing specific to any particular culture or ethnicity in this film. I happen to be the producer, who is African American. I want the film to be judged on the basis of the film. At the end of the day, the audience tells you what works. I don't care who's in it, what it's about or who it's trying to appeal to. These days, audiences have too many choices. A film has to be good, in order for it to work. So at the end of the day, I want to be on the side of making good films, and that's what I strive to do."
Look for The Wedding Ringer in theaters January 16, 2015. To witness another one of Packer's great works, watch About Last Night online.