Daniel Radcliffe has been many things to many people in his career. Of course, he was Harry Potter for so many years – so to hundreds of millions that will be how he is forever known. But, he also has been the devil (or is he?) in Horns, Allen Ginsberg in Kill Your Darlings and soon you will see him in a completely new light as a magician in Now You See Me 2.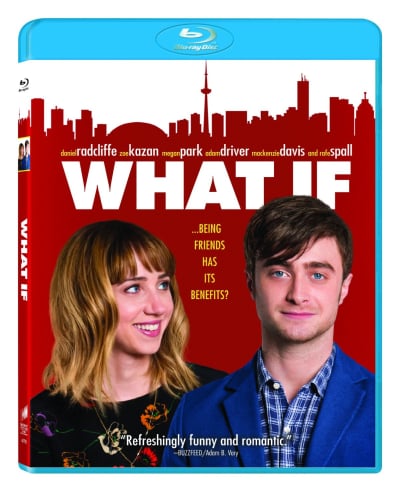 But, what about leading man in a rom-com? Yup, he is that and so much more in the new-to-DVD, Blu-Ray and digital download What If.
The film has arrived on home video and is a charming tale of a man who believes that he has met the girl of his dreams (Zoe Kazan). There's one problem, she's in a serious relationship on her way to wedded bliss. So, in light of that fact, Radcliffe decides that it is good enough to be friends -- just to be near her.
The film raises similar questions as we saw in When Harry Met Sally, but does so in a unique take that is firmly a rom-com of the 21st century.
Radcliffe shows he is a supremely talented actor who could work in any genre he wants. He possesses such a charm that even though he's longing for a woman who already has a man, we pull for the guy to find love where it seems it can't be found.
For more on the film itself, check out our theatrical What If review and see how we enjoyed the film and its fresh take on an old format.
Now that the What If DVD, Blu-Ray and digital download are out, it's a fantastic date night movie and even just a fun film for anyone seeking an enjoyable couple of hours of entertainment.
The fantastic bonus features are led by two vignettes, Blurred Lines and Opposites Attract.
Blurred Lines is more of a behind-the-scenes look at What If, as seen from the actors and filmmakers of the rom-com as they delve into what sets their rom-com apart from the legions of others that flood the marketplace. There is no better "sale" of the film than those speaking on this featurette. After viewing the charming movie, one will actually find even more affinity for the film and the characters who inhabit it after witnessing Blurred Lines.
The second vignette, Opposites Attract, is a terrific take on the relationship of Kazan and Radcliffe's characters. This featurette has the cast and crew dissecting the relationship of these two leads and why it works and, in the process, delves deeper into the age-old question of can men and women be friends.
The deleted scenes are interesting, if for no other reason than to see the choices made by filmmakers trying to craft a unique rom-com that bucks so many of the trends that these films embody.
Last, but not least, A Modern Love Story may be the best of the bonus features as Radcliffe and Kazan give their firsthand account to these two characters and their romantic journey, as well as what was so special that each found about working with the other, and also their impressions on the entire cast and What If experience.
Watch What If online now!