A Walk Among the Tombstones DVD Review: Liam Neeson Goes Dark
by Joel D Amos at . Updated at . Comments
Liam Neeson has been kicking butt (again) on screen since Taken made him an international action movie star.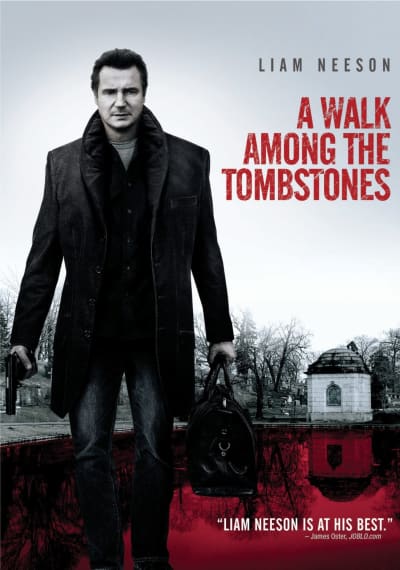 He's at it again in A Walk Among the Tombstones. But what sets this action thriller apart is the role he plays. He's a private detective, and a former cop with a checkered past, who now works for people who cannot call anyone else for help.
Like whom, you ask? Drug dealers for one. Dan Stevens plays one whose wife was kidnapped and killed. He wants Neeson to find out who did it, so he can get his unique brand of justice.
A Walk Among the Tombstones is out now on DVD, Blu-Ray and digital download.
The film was a moderate hit when it landed in 2014 and it's easy to see why. There is something about watching the Irish actor do his thing, even in his 60s, that is pure joy. Those he beats up and destroys, well, they deserve it and there are no more deserving than the villains that are at the heart of A Walk Among the Tombstones. They are the scum that prey upon the scum.
As we stated in our theatrical A Walk Among the Tombstones review, this is a pretty solid flick and features Neeson stretching his action hero thespian muscles. This is one conflicted character, Matt Scudder, he plays and the actor is so impeccably cast as the lead role in the film based on the book series by Lawrence Block. Scott Frank wrote and directed this effort and Block is lucky he has a kindred spirit in Frank as they are so, literally, on the same page.
What also sets A Walk Among the Tombstones apart from Neeson's other films is that you can tell that it was based on a book. There's a richness to it that has it featuring many more layers than some of his recent work, like Taken 3.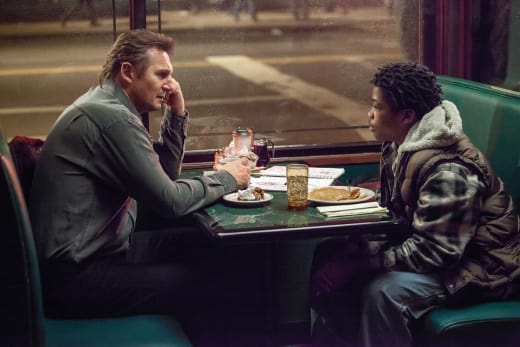 Stevens continues to impress and it is incredible to see the former Downton Abbey star in a role that is not at all sympathetic, yet we feel for him and his loss and truly want him to get justice, via Neeson's help.
When it comes to bonus features on the A Walk Among the Tombstones DVD, Blu-Ray and digital download, it is quite sparse. There is only one.
Matt Scudder: Private Eye is a fascinating look at how Block and Frank worked together to bring the author's story to the big screen. Embarking on a page-to-screen effort is never an easy task and it's delightful to see in this featurette that Frank used Block as a huge resource and that it virtually guaranteed that the author's vision (which is hugely popular with his readers) matches that of the filmmaker.
We hope that the film was enough of a success that it warrants further chapters, as Block has several books in the Scudder series. If nothing else, we cherish watching Neeson kick ass, and this time out, he also has a character that uses his brain as well as his brawn and it's a nice (slight) change of pace.
Watch A Walk Among the Tombstones online now.