American Sniper: How The Steven Spielberg Version Would Have Differed
by Joel D Amos at . Comments
Did you know that Steven Spielberg was supposed to direct American Sniper?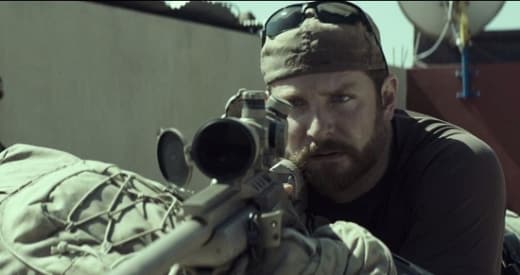 Yup, before the script got reworked with the American Sniper quotes we have now, Spielberg had a script that would have told a completely different story.
Spielberg either dropped out due to disagreements about what story to tell and how to present the Chris Kyle sniper story, or perhaps it was just scheduling.
There's no denying that what Clint Eastwood stepped in to do has certainly struck a chord (even with that American Sniper fake baby issue!).
What we did get was a flag waving portrait of an American hero told from the perspective of Bradley Cooper's character and the battlefield and home front sacrifices he and his family made to help ensure our freedom.
What Spielberg would have focused on would have been that enemy sniper and his obsession with killing Kyle. The enormity of what Kyle accomplished would have instead been told from afar in that the foreign sniper knew that if his side had any chance of winning this war, he had to take out this one man killing machine.
"He [Spielberg] wanted to focus more on the 'enemy sniper' in the script -- the insurgent sharpshooter who was trying to track down and kill Kyle," screenwriter Jason Hall told The Hollywood Reporter.
"He was a mirror of Chris on the other side. It was a psychological duel as much as a physical duel. It was buried in my script, but Steven helped bring it out."
Clearly these two movies were quite different. And we hate to say it, as we absolutely adore Spielberg, but we think that the Eastwood version of the Chris Kyle story has a much broader appeal.
With American Sniper box office sales breaking records, American audiences are voting for the version they wanted with their wallet.